Child maltreatment and quality of life: a study of adolescents in residential care
Health and Quality of Life Outcomes
2016
14:74
Received: 26 August 2015
Accepted: 3 May 2016
Published: 10 May 2016
Abstract
Background
Childhood maltreatment is an important risk factor for mental and physical health problems. Adolescents living in residential youth care (RYC) have experienced a high rate of childhood maltreatment and are a high-risk group for psychiatric disorders. Quality of life (QoL) is a subjective, multidimensional concept that goes beyond medical diagnoses. There is a lack of research regarding the associations between childhood maltreatment and QoL. In the present study, we compare self-reported QoL between adolescents in RYC in Norway with and without maltreatment histories, and adolescents from the general population. We also study the impact of number of types of adversities on QoL.
Methods
Adolescents aged 12–23 years living in RYC in Norway were invited to participate in the study; 400 participated, yielding a response rate of 67 %. Maltreatment histories were assessed through interviews with trained research assistants, and completed by 335 adolescents. Previous exposure to maltreatment was reported by 237 adolescents. The Questionnaire for Measuring Health-Related Quality of Life in Children and Adolescents (KINDL-R) was used. Nonexposed peers in RYC (n = 98) and a sample of adolescents from the general population (n = 1017) were used for comparison. General linear model analyses (ANCOVA) were conducted with five KINDL-R life domains as dependent variables. Linear regression was used to study the effect of number of types of adversities.
Results
Exposed adolescents in RYC reported poorer QoL than peers in control groups. Compared with nonexposed peers in RYC, the 95 % confidence intervals for mean score differences on the KINDL-R subdomains (0–100 scale) were 1.9–11.4 (Physical Well-being), 2.2–11.1 (Emotional Well-being), −0.7–10.0 (Self-esteem), and 1.8–10.9 (Friends). Compared with the general population sample, the 95 % confidence intervals for mean score differences were 9.7–17.6 (Physical Well-being), 7.9–15.3 (Emotional Well-being), 3.6–12.5 (Self-esteem), and 5.3–12.8 (Friends). Number of types of adversities was associated with a poorer QoL score on all subdomains (Physical- and Emotional Well-being, Self-esteem, Friends, and School).
Conclusions
Childhood maltreatment was associated with a poorer QoL score. We suggest the use of QoL and maltreatment measures for all children and adolescents in RYC.
Keywords
Child abuseMaltreatmentAdolescentsKINDL-RQuality of lifeResidential care
Background
Child maltreatment can have devastating effects for those exposed. International research has revealed an increased risk of reduced self-reported health and life satisfaction [1, 2] and increased prevalence of migraines [3], overweight [4], asthma [5], gastrointestinal illness [6], and psychosocial problems, including reduced school functioning, in adolescence and in early adulthood in individuals with child maltreatment histories, such as physical abuse, sexual abuse, and witnessing violence [7–9]. Adolescents and adults who have been exposed to maltreatment during childhood are also at increased risk of a broad spectrum of psychiatric illnesses, such as depression, anxiety, suicide ideation, eating disorders, conduct disorders, and drug abuse [10–14]. In addition, there is a growing body of literature showing that polyvictimization increases the risk of several psychiatric disorders and symptoms [14–16].
Reported prevalence rates of childhood maltreatment vary in different studies and in different countries. In the Norwegian general population, studies have reported a prevalence of physical abuse of 5–6 % (both sexes) and sexual abuse of 10–14 % (girls) and 3–4 % (boys) [17, 18]. In a meta-analysis of child sexual abuse prevalence in European countries from 2011, similar results are reported (14 % of girls and 6 % of boys) [19]. However, the Adverse Childhood Experiences (ACE) study in the United States found higher rates of maltreatment, with a prevalence of childhood physical abuse of 27 % (girls) and 30 % (boys), and a prevalence of child sexual abuse of 25 % (girls) and 16 % (boys) [20]. The childhood prevalence of witnessing intimate partner violence in high-income countries has been estimated as 8–25 % [21].
Adolescents in residential youth care (RYC) are at high risk of developing psychiatric disorders [22, 23]. In a recently published article, we found that the maltreated adolescents in RYC had a very high prevalence of psychiatric diagnoses (80 %) compared with the nonmaltreated adolescents (64 %) in RYC, and that exposure to increasing numbers of types of childhood adversities significantly increased the risk of having several psychiatric diagnoses according to the Diagnostic and Statistical Manual of Mental Disorders, 4th Edition (DSM-IV) [24]. It has also been shown that mental health problems are associated with poorer quality of life (QoL) [23, 25], and that adolescents in RYC report poor QoL [26]. The World Health Organization (WHO) defines QoL as "individuals' perception of their position in life in the context of the culture and value systems in which they live and in relation to their goals, expectations, standards and concerns" [27]. In children, this would include the child's own experiences across several life domains, such as physical and emotional well-being, self-esteem, and the child's relationship to family, friends, and school [28]. The WHO highlights that the concept of QoL is subjective and multidimensional. Therefore, self-reports are the gold standard of QoL assessment. However, in this study, we have chosen to include proxy reports of QoL as well, for additional information. Even though psychiatric and somatic symptoms and disorders are related to the individual's QoL, the term does not address psychopathology directly, but rather the impact of psychopathology on subjective perceived daily function. It also includes other factors, such as self-esteem and the person's relationship to family, friends, and school. Previous studies have shown that QoL and psychopathology are distinct features, and that it is possible to improve QoL measures even with persistent high levels of psychopathology [29]. Improvement in QoL or daily function provides an alternative outcome goal for clinicians working with children and adolescents with chronic psychiatric or somatic disorders. Adolescents in RYC with child maltreatment histories are at high risk of developing problems in several life domains, and it can be challenging to find the most beneficial treatment or prevention programs for each individual. The use of QoL measures could give important information that would go beyond the diagnosis of disease, and suggest which life domain could be targeted for interventions and improvement of functioning. As the caregivers of all children and adolescents in out-of-home care, child welfare services are responsible for providing safe environments and looking after the health of the children in their care. Considering existing research on maltreatment, one would therefore expect that child well-being should be of great interest to child welfare services. However, while there has been an increasing amount of research regarding the mental health of children in out-of-home care, research on the QoL of children in out-of-home care has been very sparse [26].
The previous research on the QoL of maltreated children and adolescents has also been very limited [30]. In a recently published review, Weber et al. concluded that there is a consistently negative association between child maltreatment and both self- and proxy-reported QoL. They also found that the number of types of maltreatment and QoL were negatively related, although the studies that had investigated this all assessed adult survivors rather than children [31]. A recent study of Swedish 15-year-old school children found a dose–response relationship between the number of types of abuse (not including sexual abuse) and a decrease in a QoL measure [32]. In a study of Chinese adolescents, Chan reported that youth exposed to polyvictimization reported poorer health-related QoL than nonvictimized peers [33]. In a large study of high school students in Kuwait, Al-Fayez et al. reported significantly poorer QoL in students exposed to maltreatment [34]. A few other studies have focused on the QoL of maltreated children and the QoL of adults who have experienced childhood maltreatment. Adult survivors of childhood maltreatment have shown significant loss of health-related QoL and of remaining quality-adjusted life years [35, 36]. Lanier et al. reported that children who received child welfare services as a follow-up to a report of child abuse or neglect had significantly lower QoL scores compared with a normative reference group [37]. A Swiss study of the health-related QoL of young maltreated children (mean age 8 years) also showed a significantly impaired QoL among maltreated children compared with matched controls [38].
The existing lacuna in research on QoL in RYC adolescents with maltreatment histories is of major concern because such knowledge could illuminate the life domains that could be targets for intervention and used to support the adolescent beyond the assessment and treatment of psychopathology. The primary aim of this study was to assess the QoL of adolescents in RYC units who have reported previous experience of maltreatment, and to compare them with adolescents in the same RYC units without this experience, and with adolescents from the general population. We also wanted to study the impact of the number of types of adversities on QoL scores for different subdomains. In addition to adolescent self-reports, proxy reports by primary contacts were assessed as a supplement.
Method
Participants and recruitment
The study sample
The data for this study were obtained from the Norwegian research project, Mental Health in Adolescent Residents in the Child Welfare System [
22
]. All residential care units providing care for adolescents aged 12–23 years in Norway were invited to participate in the study (Fig.
1
). Unaccompanied minors without asylum in Norway and adolescents on acute placement were excluded from the study because they were considered to be in such a high state of crisis that data collection should not be prioritized. Insufficient Norwegian language ability was another exclusion criterion. A total of 86 of the 98 invited institutions agreed to participate in the study, and 400 of the 601 eligible adolescents participated, giving a response rate of 67 %. Of those included in the study, 335 youths completed the psychiatric interview, yielding information about child maltreatment histories. Child Behavior Check List (CBCL) scores were available for the participants, as well as for 141 anonymous nonparticipants. These data made it possible to estimate complete DSM-IV diagnoses for 541 adolescents using Bayesian multiple imputation estimation [
22
]. Estimated prevalence rates of psychiatric diagnoses showed only a small deviance from the observed prevalence rates, which were based on completed psychiatric interviews, thereby confirming the representativeness of the 335 youths who completed the psychiatric interview. For further details, see Greger et al. [
24
] and Jozefiak et al. [
22
].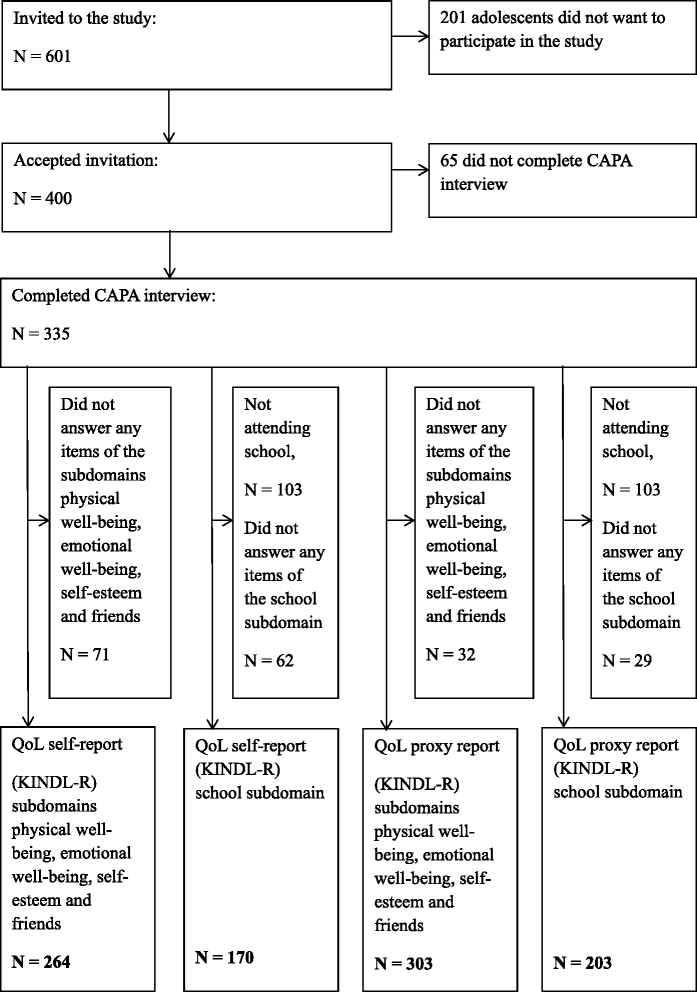 The general population reference sample
As a comparison group, we used a study sample of students from 4th to 10th grade from schools in Sør-Trøndelag county, which is a geographical area representative of Norway in general, with both urban and rural settlement. In this study, 61 school grade cohorts in the chosen geographical area were randomly selected (a school grade cohort was defined as all pupils enrolled in a specific grade at a single school). Students with limited Norwegian language skills or with a low academic developmental level were excluded. Students in the 4, 6, 8 and 10th grades were invited to participate in the study, and 1997 students were finally included, resulting in a response rate of 71.2 %. For the present study, only data from students aged 12 years and older were used (Table
1
). Students and their parents completed the KINDL-R (see below) independently. For further details, see Jozefiak et al. [
39
].
Table 1
Characteristics of the study sample and reference groups
Adolescents in RYC reporting exposure to maltreatment

Adolescents in RYC reporting no exposure to maltreatment

General population

Number

237

98

1017

Age (years)

 Mean (SD)

17.0 (1.31)

16.5 (1.30)

14.1 (1.02)

 Range

12–20

12–19

12–17

Sex

 Girls

64.6 %

43.9 %

49.5 %

Mean number of placements out of family home

3.6

2.9

Mean age at first placement, years

12.8

12.0

Witnessing violence

38.4 %

0 %

Victim of physical violence, family

54.4 %

0 %

Victim of physical violence, community

34.2 %

0 %

Sexual abuse

37.6 %

0 %

Household dysfunction

66.7 %

46.9 %

>1 type of childhood adversitya

66.2 %

0 %
Procedures
Data collection was conducted by research assistants who visited the institutions and completed structured psychiatric interviews with adolescents and their primary contacts, and collected questionnaires from adolescents, primary contacts, and leaders of the institutions. Four trained interviewers were used; they had been educated in relevant fields (Master's degrees in psychology/social work, one Bachelor's degree in mental health, and a nurse who specialized in mental health) and had extensive prior experience working with children and families. During the whole period of data collection, a team of child and adolescent psychiatrists and psychologists was on call in case of emergencies. Data were collected from June 2011 until July 2014.
Representativeness of the sample
An attrition analysis was conducted to see if there were any significant differences between participants who had completed the KINDL-R self-report (n = 264), and those who had not (n = 136) out of the total of 400 participants in the study. This was done by comparing scores on the internalizing and externalizing problem subscale scores of the CBCL. Complete CBCL scores for 240 of the participants with KINDL-R self-reports were available. For those without a completed KINDL-R self-report, the internalizing problem score was available for 114, and the externalizing problem score was available for 116 participants. The results showed no significant difference in the externalizing problem score (mean difference 2.37, p = 0.096). There was a significant difference in the internalizing problem score (mean difference 2.35, p = 0.036), suggesting that those who did not complete the KINDL-R self-report had a slightly higher internalizing problem score than the rest. However, the mean difference was small compared with the total range on the internalizing problem score of the CBCL (0–64).
Missing values
Out of the initial 400 participants, 335 completed the CAPA interview, which was used to categorize them according to child maltreatment history. The KINDL-R data files were studied separately for self and proxy reports, and because of the high rate of youth not attending school, this subscale was studied separately from the rest. Participants who did not answer any of the questions were excluded, resulting in the inclusion of 170 respondents for the self-report school subdomain and 264 self-report respondents for the remaining four subdomains. The corresponding proxy reports resulted in 203 respondents for the school subdomain and 303 respondents for the remaining four subdomains. Among these, there were 0.6 to 2.4 % missing values for the self-report school subdomain (four items), 0.4 to 6.1 % for the remaining self-report subdomains (16 items), 0.5 to 2.5 % for the proxy-report school subdomain (four items), and 0.7 to 3.3 % for the remaining proxy-report subdomains (16 items). These missing values were singly imputed, using the expectation-maximization algorithm.
Statistical analysis
KINDL-R subscale scores for the three groups of adolescents were compared using a general linear model (ANCOVA). Pairwise comparisons were carried out, combining the global F-test with a local least significance difference test to preserve the familywise error rate (FWER) [45]. To compare the KINDL-R subscale scores with the self-reported number of types of adversities, we used linear regression with the latter as an independent variable. Linear regression was also used to study the effects of categories of childhood adversities on KINDL-R subdomains. Both ANCOVA and linear regression were adjusted for age and sex. Confidence intervals for Pearson's correlation coefficient were based on the Fisher z-transformation. Correlation coefficients of 0–0.29 were considered small, 0.3–0.59 moderate, and 0.6–1 high. Results were considered statistically significant with a two-sided p-value <.05. Analyses were carried out in SPSS (v. 21; IBM SPSS).
Ethics
The Norwegian Regional Committee for Medical and Health Research Ethics approved the present study and the main research project, Mental Health in Adolescent Residents in the Child Welfare System (number of reference 2013/1128/REC Central). Written informed consent was obtained, and if the participant was under 16 years of age, consent from the guardian was also obtained. To avoid making participants feel pressured to participate, the head of the institution received detailed oral and written information about the research project. A six-page standardized information/invitation letter was distributed to the adolescents, and had previously been approved by the Committee for Medical and Health Research Ethics. This information letter described in detail, using simple language, the kind of information to be assessed. It was emphasized that participation in the project was voluntary, that the adolescent did not need to complete all the questions, and that the participant could retract her or his consent at any time. When the research assistant arrived at the institutions the same information was given once again orally to ensure that the adolescent gave informed, voluntary consent to participate in the study.
Results
Table 1 shows the general characteristics of the adolescents in RYC units and in the general population. Two hundred and thirty-seven adolescents reported exposure to maltreatment, including witnessing violence. Among the adolescents in RYC, the childhood adversity score varied from 0 to 4 (mean = 1.53, SD = 1.12, median = 1).
Discussion
Adolescents in RYC with child maltreatment histories reported significantly poorer QoL than peers in RYC without maltreatment histories. We also found a dose–response effect in that increasing numbers of types of childhood adversities were associated with poorer QoL on self-reports. As shown in Table 1, there are some differences between our study population and the reference groups. The adolescents in RYC have a higher mean age than the general population sample, and there are more girls in the maltreated group of adolescents. However, this has been taken into account by adjusting for sex and age in the analyses.
Conclusion
Adolescents in RYC with histories of childhood maltreatment report a poorer QoL than nonexposed peers in RYC and adolescents in the general population on all five QoL subdomains we studied. Exposure to more than one type of childhood adversity is common in this population, and is an additional factor negatively associated with QoL in a dose–response relationship. Maltreatment affects children and adolescents in several life domains, including their mental and physical health, and the short- and long-lasting consequences can be detrimental. The use of QoL measures among this high-risk population could unveil problems in areas that go beyond symptoms and diagnoses, thereby opening up the possibility of offering interventions and preventing a further decline in functioning at an early stage in development. Some interventions could be easily implemented by RYC staff, such as offering increased physical activity or exercise, and improving residents' diet, while others demand comprehensive cooperation between health services, child welfare services, and schools. We suggest that measures of QoL and maltreatment be included in the evaluation of the health and daily functioning of all adolescents in RYC.
Declarations
Acknowledgements
This research was supported in part by grants from Renée and Bredo Grimsgaard's Foundation, Eckbo's Endowment, the Fulbright Program, and the Department of Child and Adolescent Psychiatry, St. Olav's Hospital, Trondheim.
Open AccessThis article is distributed under the terms of the Creative Commons Attribution 4.0 International License (http://creativecommons.org/licenses/by/4.0/), which permits unrestricted use, distribution, and reproduction in any medium, provided you give appropriate credit to the original author(s) and the source, provide a link to the Creative Commons license, and indicate if changes were made. The Creative Commons Public Domain Dedication waiver (http://creativecommons.org/publicdomain/zero/1.0/) applies to the data made available in this article, unless otherwise stated.
Authors' Affiliations
(1)
Department of Child and Adolescent Psychiatry, St. Olavs Hospital, Trondheim, Norway
(2)
Department of Public Health and General Practice, Norwegian University of Science and Technology (NTNU), Faculty of Medicine, Trondheim, Norway
(3)
Children's Clinic, St.Olavs Hospital, Trondheim, Norway
(4)
Norwegian University of Science and Technology (NTNU), Faculty of Medicine, RKBU Central Norway, Trondheim, Norway