Psychometric validation of the visual function questionnaire-25 in patients with diabetic macular edema
Health and Quality of Life Outcomes
2013
11:10
Received: 26 April 2012
Accepted: 14 January 2013
Published: 24 January 2013
Abstract
Background
Diabetic Macular Edema (DME) is a common cause of impaired vision and blindness amongst diabetics. If not detected and treated early, the resulting vision loss can lead to considerable health costs and decreased health-related quality of life (HRQoL). The aim of this study was to provide evidence of the psychometric properties of the National Eye Institute - Visual Functioning Questionnaire (VFQ-25) for use in a cohort of DME patients who participated in a clinical efficacy and safety trial of pegaptinib sodium (Macugen).
Methods
A phase 2/3 randomised, double masked trial evaluated pegaptanib injection versus sham injection in patients with DME. The analysis was conducted using baseline HRQoL data of the VFQ-25 and the EQ-5D, on a modified intent-to-treat sample of 235 patients. These measures were administered by a trained interviewer by telephone in all but one of the study countries, where face-to-face interviews were conducted in the clinic. The measures were completed in the week prior to baseline, and after 54 weeks of treatment. Distance visual acuity, measured according to the Early Treatment Diabetic Retinopathy Study (ETDRS), was assessed at all time points. Psychometric properties of the VFQ-25 assessed included domain structure, reliability, concurrent and construct validity, responsiveness.
Results
The VFQ-25 was found to consist of 11 domains slightly different than those proposed. Nevertheless, none of the eight established multi-item scales met the criterion for further splitting and the VFQ-25 was scored as in the developers' instructions. Internal consistency reliability was demonstrated for six out of the eight original multi-item scales, with Cronbach's alpha ranging from 0.58 (Distance Activities) to 0.85 (Vision Specific: Dependency). The VFQ-25 domains generally showed a low to moderate correlation with EQ-5D visual analogue scale (range 0.16-0.43) and with the visual acuity score (range 0.10-0.41). Construct validity was upheld with higher VFQ-25 scores for patients who saw more letters according to the ETDRS. Almost all scales were shown to be responsive with Guyatt's statistic ranging from 0.10 to 0.56 at 54 weeks.
Conclusions
The VFQ-25 has evidence to support its validity and reliability for measuring HRQoL in DME. However, some operating characteristics of the instrument need further consideration and discussion in the case of DME patients. Further research is therefore warranted in this indication.
Keywords
Diabetic macular edemaVisual functioning questionnairePsychometric analyses
Background
Diabetic macular edema (DME) is one of the most common causes of impaired vision and blindness amongst diabetic patients [1]. DME is the result of long-term excess blood-glucose on the microvascular system of the eye. Over time, this leads to diabetic retinopathy, and in some patients results in edema of the macula (the cone-rich centre of the retina responsible for day-time colour vision). The Early Treatment Diabetic Retinopathy Study (ETDRS), a pivotal study in DME, defined macular edema as thickening of the retina and/or hard exudates within one disc diameter of the centre of the macula [2]. The standard of care to treat DME is focal/grid laser photocoagulation; however, earlier in 2011 intravitral injection of an anti-vascular endothelial growth factor, ranibizumab, was approved for the treatment of DME, and further treatments are in development.
In addition to visual improvement, it is important to measure efficacy of DME treatment which is evaluated in terms of the impact on patients' ability to function and complete their usual activities. Measures of vision-related or health-related quality of life (HRQoL) have been developed to assess the broader impact of poor visual functioning [3, 4]. Generic measures such as the EQ-5D also exist which are designed to be valid assessments of HRQoL in any disease area [5].
Decreasing vision has a complex relationship with HRQoL; in addition to the impact on people's ability to complete their usual daily activities, the loss of visual function combined with the threat of further declines in visual function may affect psychological state or lead to social isolation [6]. There are several condition-specific measures or instruments which are designed to capture the specific impact of vision loss on HRQoL. The National Eye Institute in collaboration with RAND developed the Visual Function Questionnaire (VFQ-25), which is probably the most widely used and researched HRQoL measure in this field. The VFQ-25 is a vision-specific measure of HRQoL composed of eight multi-item scales, four single-item scales, and one composite score ranging in value from 0 (poor) to 100 (high HRQoL). The following dimensions of vision-targeted function and HRQoL comprise the VFQ-25: overall vision, difficulty with near vision activities, difficulty with distance vision activities, limitations in social functioning due to vision, role limitations due to vision, dependency on others due to vision, mental health symptoms due to vision, driving difficulties, limitations with peripheral and colour vision, and ocular pain. The measure provides an algorithm to calculate a composite score based on the subscales, and additionally contains one item for subject rating of general health status.
The development and psychometric characteristics of the VFQ-25 have been documented [7, 8]. The VFQ-25 has been developed to be appropriate to use across a range of visual disorders and to measure their effects. This is an advantage over other measures which are more specific such as the VF-14 [4] which was developed to assess outcomes associated with cataracts and associated treatments. The VFQ-25 has been used in a wide range of different ophthalmology indications [9]. The Los Angeles Latino Eye Study (LALES) is one prominent example where the impact of vision loss on HRQoL was assessed over four years in a population cohort. The study assessed different conditions including glaucoma, retinopathy and age-related macular degeneration. This work revealed the domains of the VFQ-25, such as vision-related mental health, which were most sensitive to loss of vision. Mazhar et al. [10] present more LALES data which focussed on the changes in HRQoL experienced by people with diabetic retinopathy.
Existing evidence regarding the VFQ-25 in other indications suggests that it possesses good internal consistency reliability, and correlates well overall with visual acuity (measured in terms of ETDRS) [7, 8]. Despite the widespread use of the VFQ-25, the evidence of validity of the VFQ-25 in people with DME is sparse and needs further elucidation. Psychometric validation of instruments should always be considered as an on-going process [11], and the validity of an instrument can never be assumed just because it has been demonstrated in a related area. Therefore it is very important to measure and establish the psychometric properties of an instrument when used in a new indication. This is standard practice in outcomes research and is the expectation of regulatory bodies and decision makers [11]. Vision disorders in diabetes are known to affect HRQoL [12]. Lloyd et al., 2008 [13], and Cusick et al. (2005) [6] show evidence regarding how edema exerts an additional burden on HRQoL. As the psychometric properties of the VFQ-25 have not been documented in this patient group, the present study is designed to test the psychometric properties of the VFQ-25 in an adult DME population using data collected during a clinical trial of the treatment of pegaptanib for DME.
Results
From this analysis cohort of 260 patients, 235 had non-missing VFQ-25 baseline data and were included in the psychometric validation (Figure
1
). Table
1
shows the background characteristics of the study group. The mean ± SD age of the analysis cohort was 62 ± 10 years, 43% were female, and 82% were Caucasian. At baseline the majority of the patients (68%) had visual acuity in the study eye of 69 to 55 ETDRS letters (20/50 to 20/80). Data are also presented for patients in terms of better eye and worse eye visual acuity.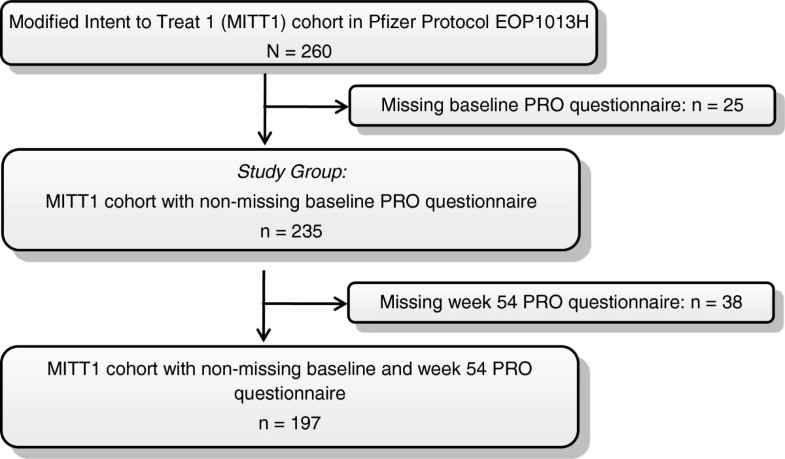 Table 1
Background characteristics of study group
| Characteristic | Baseline (week 0) N = 235 |
| --- | --- |
| Age (years) | |
| Mean ± SD | 62 ± 10 |
| Median (IQR) | 62 (56 – 69) |
| Range | 20 – 83 |
| Female, n (%) | 102 (43.4) |
| Ethnicity, n (%) | |
| Caucasian/White | 192 (81.7) |
| Asian | 25 (10.6) |
| Other (Black, Hispanic/Latino, unspecified) | 18 (7.6) |
| ECOG Performance Status | |
| Mean ± SD | 0.5 ± 0.5 |
| Median (IQR) | 0 (0 – 1) |
| Range | 0 – 2 |
| Type II diabetes, n (%) | 218 (92.8) |
| Duration of vision problems, n (%) | |
| None | 1 (0.4) |
| <1 year | 93 (39.6) |
| 1-5 years | 122 (51.9) |
| 6-10 years | 15 (6.4) |
| >11 years | 4 (1.7) |
| ETDRS visual acuity scale: study eye | |
| 85 letters or more (20/16 or more) | 0 (0.0) |
| 85-75 letters (20/20 - 20/32) | 0 (0.0) |
| 74-70 letters (20/40) | 3 (1.3) |
| 69-55 letters (20/50 - 20/80) | 160 (68.1) |
| 54-40 letters (20/100 - 20/160) | 61 (26.0) |
| 39-35 letters (20/200) | 11 (4.7) |
| 34 letters or less (20/250 or less) | 0 (0.0) |
| ETDRS visual acuity scale: fellow eye | |
| 85 letters or more (20/16 or more) | 11 (4.7) |
| 85-75 letters (20/20 - 20/32) | 75 (32.2) |
| 74-70 letters (20/40) | 30 (12.9) |
| 69-55 letters (20/50 - 20/80) | 60 (25.8) |
| 54-40 letters (20/100 - 20/160) | 31 (13.3) |
| 39-35 letters (20/200) | 9 (3.9) |
| 34 letters or less (20/250 or less) | 14 (6.0) |
| Counting fingers-hand motion | 3 (1.3) |
With regard to item and scale variability, patients used the entire range of responses for all of the VFQ-25 items. In addition, the completion rate for all items on the VFQ-25 was 96% [
26
,
34
]. The distribution of the VFQ-25 data by scale at baseline and at week 54 is presented in Table
2
. The VFQ-25 composite score at baseline was 66.8 ± 18.6. The smallest and largest means were found for General Health (40.2 ± 22.2) and Colour Vision (87.1 ± 21.2). Scores were slightly higher at week 54 on the majority of domains, although direct comparisons cannot be made between baseline and week 54 scores because the baseline cohort was not restricted to those with follow-up data.
Table 2
Distribution of scale scores
Questionnaire and Domain

Question number(s)

Baseline (week 0) N = 235

Follow-up (week 54) N = 197

Mean ± SD

Median (IQR)

Mean ± SD

Median (IQR)

VFQ-25: Empirical range is 0 to 100 where a higher score indicates better HRQoL

1. General Health

1

40.2 ± 22.2

50.0 (25.0-50.0)

40.9 ± 21.0

50.0 (25.0-50.0)

2. General Vision

2

54.6 ± 17.8

60.0 (40.0-60.0)

62.2 ± 15.4

60.0 (60.0-80.0)

3. Ocular Pain

4, 19

78.8 ± 22.3

87.5 (62.5-100.0)

82.2 ± 19.7

87.5 (62.5-100.0)

4. Near Activities

5, 6, 7

58.6 ± 23.8

58.3 (33.3-75.0)

61.0 ± 23.9

58.3 (41.7-83.3)

5. Distance Activities

8, 9, 14

64.2 ± 24.4

66.7 (41.7-83.3)

66.1 ± 25.6

66.7 (50.0-91.7)

6. Social Functioning

11, 13

80.1 ± 23.1

87.5 (62.5-100.0)

78.6 ± 23.2

87.5 (62.5-100.0)

7. Mental Health

3, 21, 22, 25

58.2 ± 27.7

62.5 (37.5-81.3)

64.2 ± 25.2

68.8 (50.0-87.5)

8. Role Difficulties

17, 18

54.8 ± 28.0

50.0 (37.5-75.0)

61.7 ± 27.8

62.5 (37.5-87.5)

9. Dependence

20, 23, 24

70.1 ± 31.2

83.3 (41.7-100.0)

73.7 ± 28.2

83.3 (58.3-100.0)

10. Driving*

15c, 16, 16a

51.8 ± 34.9

58.3 (16.7-83.3)

53.9 ± 35.6

66.7 (16.7-83.3)

11. Colour Vision

12

87.1 ± 21.2

100.0 (75.0-100.0)

87.2 ± 21.5

100.0 (75.0-100.0)

12. Peripheral Vision

10

71.3 ± 25.8

75.0 (50.0-100.0)

74.6 ± 25.4

75.0 (50.0-100.0)

VFQ-25 Composite

1-14, 15c, 16, 16a, 17-25

66.8 ± 18.6

68.8 (53.5-82.8)

70.1 ± 18.7

71.5 (57.2-86.6)

EQ-5D VAS: Empirical range is 0 to 100 where a higher score indicates better health

65.7 ± 16.8

70 (50-80)

67.3 ± 17.0

70 (60-80)

EQ-5D single index

0.748 ± 0.203

0.779 (0.689-0.848)

0.727 ± 0.238

0.727 (0.689-0.850)
Discussion
The analyses of the domain structures of the VFQ-25 do not perfectly describe the proposed structure of the instrument. The analyses provided support for the conceptual model but there were also some differences of note. The 'worry' item (Q 3) did not load onto the mental health domain in the new model, but instead became a separate and distinct single item factor. The general driving question was associated with social functioning whereas the driving in difficult conditions or at night items both fell out as a separate domain. The social functioning domain seemed to disappear with both items being redistributed to other domains. The near vision item which refers to seeing things on a crowded shelf was aligned with the distance vision domain as opposed to the near vision domain of the original model. The results were similar when using baseline data alone and when pooling baseline and follow-up data at Week 54. However, variable clustering methodology showed that none of the eight established multi-item scales met the criterion for further splitting.
The analyses of the instrument's reliability were generally supportive. However internal consistency of the measure is often very restricted because many domains only include a single item. This lack of sufficient numbers of items is an important limitation in the design of the VFQ-25. It is better practice to have multiple items per domain, for example, between four and ten items as this provides a much more thorough assessment of the dimension. The overall measurement properties of the VFQ-25 (i.e. not just reliability) would be improved if there were more items per domain, or perhaps fewer domains.
The evidence to support concurrent and construct (discriminant and convergent) validity was mixed. Significant correlations were found between VFQ-25 and EQ-5D VAS scores, but these were generally low. Regression analyses found that different domains of the VFQ-25 were significantly predicted by variables such as ECOG, HbA1c, and ETDRS but this pattern of findings was not consistent. Indeed it wasn't clear to the authors what pattern of results would necessarily be predicted. It's interesting to note that based upon very similar patterns of correlations between visual acuity and VFQ-25 in patients with diabetic retinopathy, Matza et al. [35] concluded that the instrument "demonstrated construct validity". The interpretation of whether something is psychometrically valid is subjective and reflects different points of view.
The analysis of known groups validity did demonstrate that the measure could differentiate between patients based on ETDRS letter score. However, the exploration of the validity of the VFQ-25 was rather complicated because of the wide conceptual scope of the instrument. The VFQ-25 includes domains which reflect central visual function – such as near and distance activities, and driving- domains which should be related to visual acuity in DME patients. The instrument also includes more general domains such as role difficulties and social functioning which will be influenced by many factors other than central vision. Therefore there are a priori reasons as to why these domains would not be related to ETDRS score. In reality, however, the association between domain scores and visual acuity was no greater for vision-related domains than it was for the more general domains. This indicates that much of what the VFQ-25 is measuring is not related to visual functioning. This argument is supported when the correlations with EQ-5D VAS are considered.
Other authors have raised fundamental concerns regarding the performance of the VFQ-25. Marella et al. [36] report a study which employed Rasch analysis to explore the performance of the VFQ-25 in patients with low vision and concluded the 12 factor structure of the VFQ-12 has no psychometric validity. They proposed a simpler two factor solution reflecting visual and socio-emotional functioning. Some of the items do not fit this structure and the authors suggest that these be dropped (when the instrument is used in patients with low vision). In addition the Rasch analysis indicated that many of the items could effectively be reduced to a dichotomous outcome. This study, and others [37, 38], have also highlighted limitations with the VFQ-25. On balance the VFQ-25 has design flaws and failings related to its psychometric performance; nonetheless, it was able to measure various aspects of HRQoL in patients with DME.
There are some important limitations with our study. The analyses were undertaken retrospectively on clinical trial data and, consequently, the data available for the analyses were limited. Quite detailed ophthalmology data were available but there were limited data from other measures of HRQoL as might be expected in a clinical trial, as trial participants may already be overburdened with clinical measurements required by the protocol. HRQoL was restricted to the EQ-5D, and for these analyses only the VAS was used. The VAS is an assessment of general health status and as such was probably influenced by many factors. It would be useful to gather more detailed information perhaps using a generic profile measure of HRQoL, and in addition an alternative measure of vision-specific HRQoL. In our analyses of construct validity we relied on the EQ-5D VAS to benchmark the VFQ-25 data against. We believe this is a limitation of our study because the EQ-5D VAS is a single item scale which assesses self-rated health. Therefore, while the EQ-5D VAS may be able to provide an overview of health status, it is not specific to the domains that the VFQ-25 is measuring. This makes it difficult to interpret the importance of correlations. It would have been preferable to benchmark against another profile measure. In addition, we used the EQ-5D VAS to benchmark MID of vision specific functioning and HRQoL. While estimates of MID on these measures have been previously reported, it should be remembered that the EQ-5D VAS assesses overall health status. Therefore this is not the most appropriate anchor to use for assessing the MID of vision-specific functioning and HRQL as measured by the VFQ-25. It would have been preferable to use anchors that are much more specific to the domain being assessed, but such data were not captured in the trial.
It should also be noted that because of the nature of the condition, the data were collected using a validated telephone interview script rather than through self-report or face-to-face interviews, apart from in India where telephone interviews were not possible. This administration method was not specifically examined as a predictor variable in the psychometric analyses.
The present study suggests that the VFQ-25 has some validity as a measure of HRQoL in patients with DME. It performs as well in DME as in assessment of diabetic retinopathy [10], and age related macular degeneration [39]. However, consistent with other studies, the VFQ-25 has some important limitations. To improve measurement of vision-related quality of life in DME patients, a new or modified instrument should be developed.
Declarations
Acknowledgement
The authors would like to acknowledge the statistical input from Dr Helen Doll.
Authors' Affiliations
(1)
Oxford Outcomes, an ICON plc Company, Oxford, UK
(2)
Pfizer Ltd, Walton Oaks, Tadworth, Surrey, UK
(3)
ICON PLC, Embarcadero Centre, San Francisco, USA
(4)
Pfizer Inc, La Jolla, USA
Copyright
© Lloyd et al.; licensee BioMed Central Ltd. 2013
This article is published under license to BioMed Central Ltd. This is an Open Access article distributed under the terms of the Creative Commons Attribution License (http://creativecommons.org/licenses/by/2.0), which permits unrestricted use, distribution, and reproduction in any medium, provided the original work is properly cited.