Outcomes and quality of life following breast cancer treatment in older women: When, why, how much, and what do women want?
Health and Quality of Life Outcomes
2003
1:45
Received: 30 July 2003
Accepted: 17 September 2003
Published: 17 September 2003
Abstract
Background
There are few comprehensive reviews of breast cancer outcomes in older women. We synthesize data to describe key findings and gaps in knowledge about the outcomes of breast cancer in this population.
Methods
We reviewed research published between 1995 and June 2003 on breast cancer quality of life and outcomes among women aged 65 and older treated for breast cancer. Outcomes included communication, satisfaction, and multiple quality of life domains.
Results
Few randomized trials or cohort studies that measured quality of life after treatment focused exclusively on older women. Studies from older women generally noted that, with the exception of axillary dissection, type of surgical treatment generally had no effect on long-term outcomes. In contrast, the processes of care, such as choosing therapy, good patient-physician communication, receiving treatment concordant with preferences about body image, and low perceptions of bias, were associated with better quality of life and satisfaction.
Conclusions
With the exception of axillary dissection, the processes of care, and not the therapy itself, seem to be the most important determinants of long-term quality of life in older women.
Keywords
Breast Cancer
Tamoxifen
Axillary Dissection
Breast Conservation
Breast Cancer Care
Introduction
Breast cancer is an important disease and one where health care services have the potential to improve the quality and quantity of life. Breast cancer is also largely a disease of old age [1, 2]. By the year 2030, one in five women in the United States will be 65 years of age or older (hereinafter referred to as "older") [3]. This demographic imperative, coupled with the dramatic increases in rates of breast cancer with advancing age, is expected to translate into a large absolute increase in the number of older women treated for and surviving breast cancer [4]. These older breast cancer survivors are likely to be a physiologically, socially, and racially heterogeneous group with varying numbers of comorbid conditions and varying outcomes following treatment for their disease [4, 5].
Older women diagnosed with breast cancer today have many different treatment options from which to choose. While most women will chose treatments that maximize survival, information about quality of life can be an important component in decision-making in several clinical situations. For instance, if a woman is considering two treatments with equivalent survival, such as mastectomy and breast conservation, then quality of life outcomes may be important considerations in her treatment decision-making. Likewise, in clinical trials of equivalent approaches, quality of life may be the identifying factor in determining the most "effective" treatment. Quality of life may also be important to women, providers, and researchers comparing the overall benefits of very toxic, but very effective regimens with those of less toxic approaches that yield somewhat lower survival. The balance of effectiveness, harms, and quality of life is especially important for older women, since treatment decisions must also factor in interactions of comorbid conditions and treatment.
Unfortunately, until recently, older women were not included in sizable numbers in breast cancer research. In addition, the inclusion of quality of outcomes into clinical and observation trials is also a fairly recent trend [6]. Thus, there is only limited information available on quality of life outcomes after different treatment regimens among diverse older populations. In this paper we review what is known about quality of life outcomes in older women with breast cancer. We highlight findings across multiple domains, discuss special considerations in measuring outcomes in this age group, and make some recommendations for future research. This review is intended to serve as a focal point for discussion and extension of existing efforts to improve the quality of breast cancer care for the growing older population.
Methods
For the purposes of this review, quality of life outcomes associated with breast cancer care are defined as the net effects of the health care structure and process on the health and well-being of women diagnosed with this disease [
7
]. As such, quality of life is a multidimensional construct encompassing clinical, financial, functional, and psychosocial domains affected by treatment and its interactions with baseline comorbidity and circumstances (Figure
1
) [
6
–
9
]. We use the term quality of life to be synonymous with the expression 'health-related quality of life' [
10
].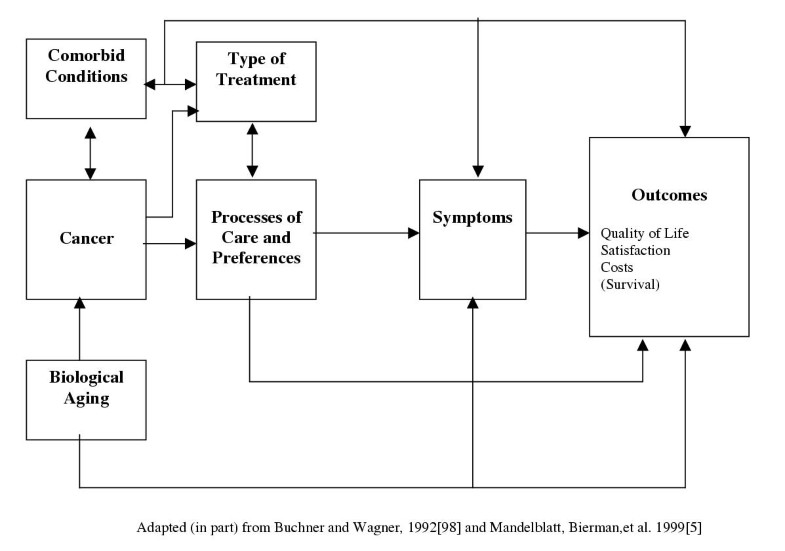 To identify relevant articles for this review, we conducted a search of published literature indexed on MedLine, CancerLit, CINAHL, and PsychInfo between 1995 and June 2003. We chose 1995 as the earliest year for review to ensure that results would be consistent with current standards of care. To capture literature encompassing a broad set of domains that might be affected by breast cancer or its treatments, we included the following terms in our searches: "breast neoplasms" and "aged" or "elderly" with "quality of life," "pain," "fatigue," "mental health," "adjustment," "body image," "satisfaction," "sexuality," "social support," "function," "communication," "cognition," or "economics." We also examined the bibliographies of retrieved articles for additional relevant citations. For citations of articles published prior to 1995, we only included sentinel articles pertinent to older women. We confined our review to original reports of randomized trials and cohort studies to examine data by age group and domain of quality of life. We excluded methodological articles, reviews, case series, and case reports, and non-English language articles. Articles were reviewed for inclusion of older women and data were abstracted on post-treatment quality of life or other outcomes for this age group. It should be noted that most observational studies to date have only examined short-term side effects and symptoms of treatment and future research is need on long-term side effects of treatments in older breast cancer survivors. We confine citations of data to results that were statistically significant, highlighting findings that are controlled for key confounding variables, such as baseline functioning [11]. We present a qualitative summary of these results. We did not attempt to conduct a meta-analysis of results since each study was conducted using varying time horizons, used different measurement tools and definitions of quality of life domains, included heterogeneous populations with a variety of tumor stages, and was conducted in different countries and cultural perspectives.
Results
Overall, few randomized trials or cohort studies measured quality of life after treatment and focused exclusively on older women [12–14]. With rare exceptions, [15–17] studies involving breast cancer outcomes were conducted in non-minority populations.
Declarations
Acknowledgements
The authors would like to thank Trina McClendon for manuscript preparation. This review is dedicated to the memory of Natalie Davis Springarn: your example of living and dying gracefully with breast cancer give us hope and guide our work.
Authors' Affiliations
(1)
Department of Oncology and Lombardi Cancer Center, Georgetown University, Washington, USA
Copyright
© Mandelblatt et al; licensee BioMed Central Ltd. 2003
This article is published under license to BioMed Central Ltd. This is an Open Access article: verbatim copying and redistribution of this article are permitted in all media for any purpose, provided this notice is preserved along with the article's original URL.