Manifesto: towards a clinically-oriented psychometrics
Health and Quality of Life Outcomes
2017
15:83
Received: 13 December 2016
Accepted: 13 April 2017
Published: 26 April 2017
The Erratum to this article has been published in Health and Quality of Life Outcomes 2017 15:112
It has long been argued that patient-reported outcomes based on validated instruments should be integrated into routine clinical care. The primary rationale is that the clinician-patient interaction often leads to underreporting of symptoms. This may result from clinicians not asking the right questions or not listening to patients' answers, but there are also reasons to believe that patients sometimes feel inhibited discussing symptoms with doctors. Whatever the cause, it is surely not good medicine when we find that, for instance, the rate of appetite loss reported by cancer patients is six times higher than the rate documented in case notes [1], or where drug-related toxicities are reported at a 50% higher incidence by rheumatology patients than their doctors [2].
Yet use of patient-reported outcomes as a clinical routine has, for many years, been no more than an aspiration. In principle, giving patients a paper questionnaire, scoring it and then providing the results to the doctor, should improve the quality of the clinical consultation. In practice, administering paper questionnaires in a busy clinic and then fitting in scoring and reporting within clinic workflow requires a significant ongoing commitment of time and resources that is infeasible for many practices.
The development of technologies to collect patient-reported outcomes electronically has been transformative. Many institutions now email patients a link to an online questionnaire that is scored automatically and a report entered into the electronic medical record well in time for the doctor to review before the consultation [3].
At our institution, Memorial Sloan Kettering Cancer Center (MSKCC), we have used electronic methods to obtain patient-reported outcomes for many years. For instance, prostate cancer patients attending follow-up after surgery complete a questionnaire about urinary and erectile function [
4
] before their consultation. Recovery over time is then plotted on a graph that is included in the case notes that the surgeon reviews before seeing the patient (see Fig.
1
). We have numerous other examples where patient-reported outcomes are part of routine care, including breast reconstruction; active surveillance for prostate cancer; chronic pain; recovery after hysterectomy; recovery after rectal cancer surgery; "red flag" symptoms in the immediate postoperative period; external beam radiotherapy for prostate cancer; "Rapid Fitness Assessment" for geriatric patients; high-risk breast clinic and neurosurgery. A number of other initiatives are in a pilot phase.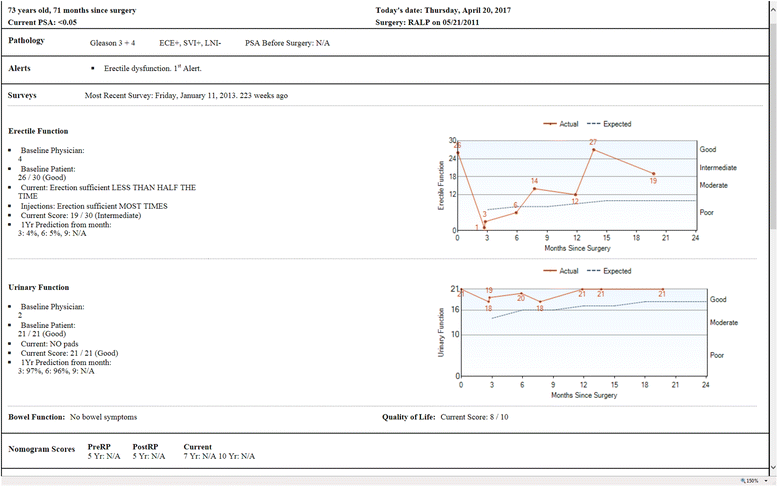 Our overall experience confirms the predicted benefits on incorporating patient-reported outcomes into clinical practice. Doctors tell us that it generally improves the consultation by allowing them to focus on the most relevant clinical issues. Take, for instance, the doctor of the patient shown in Fig. 1. Instead of starting the consultation with a series of questions to establish the patient's status ("do you ever have to rush to the bathroom?", "are you able to have sex?" etc.) the doctor asked the patient "your urinary function seems to be pretty good but you still seem to be having problems with erectile function. In fact, it seems to be getting worse. Is that right? Do you want to talk about that?". Another common experience is when first introducing patient-reported outcomes in a clinic, when the doctor first receives the results of a questionnaire and says something like: "She never told me about that". We have also found very high concordance between patient and doctor ratings of post-surgical symptoms.
On the other hand, our experience has raised serious questions about a different aspect of patient-reported outcomes, namely, how patient-reported outcomes instruments are developed. The methodology of questionnaire development has a long history and follows well-established principles. For instance, where several items are combined into a single domain score, the investigators designing the questionnaire assess the correlation between those items in order to determine whether they are indeed measuring the same underlying construct. Questionnaire developers will also want to see if domain scores are associated with known correlates, such as scores declining with age or improving after treatment.
We believe that such psychometric concerns are necessary, but far from sufficient, for designing a questionnaire that will be useful for routine clinical practice. Indeed, we would go further and say that because patient-reported outcome instruments have been almost exclusively designed for and used in the research setting, they often require a considerable redesign for clinical use. In this commentary, we summarize our clinical experience of using patient-reported outcomes in terms of four principles for a clinically-relevant psychometrics.
(1)
Department of Epidemiology and Biostatistics, Memorial Sloan Kettering Cancer Center, 485 Lexington Avenue, New York, NY 10017, USA