Health-related quality of life and its association with medication adherence in active pulmonary tuberculosis– a systematic review of global literature with focus on South Africa
Health and Quality of Life Outcomes
2016
14:42
Received: 7 August 2015
Accepted: 3 March 2016
Published: 11 March 2016
Abstract
Introduction
Tuberculosis (TB) is a leading cause of morbidity and mortality in South Africa. Clinical parameters are important objective outcomes in TB; however they often are not directly correlated with subjective well-being of the patient, but can be assessed using patient-reported outcome (PRO) measures. Health-related quality of life (HRQOL) is a specific PRO generally multi-dimensional in nature and includes physical, mental and social health domains. The inclusion of HRQOL PROs in trials and clinical practice can provide additional information beyondclinical and microbiological parameters. Furthermore, HRQOL may be associated with medication adherence. This review focuses on patient-reported HRQOL and its association with medication adherence in TB patients in South Africa.
Methods
A comprehensive search strategy was developed focusing on the impact of TB on patient-reported HRQOL,the existence of a conceptual framework of TB-specific HRQOL, determinants of medication adherence and the association of HRQOL with medication adherence. Data were extracted from all identified articles and additionaldata extraction was performed by two independent reviewers with special focus on longitudinal studies in order to understand changes of HRQOL and adherence over time. Research gaps were identified with regard to patient-reported HRQOL and medication adherence.
Results
A total of 66 articles met the eligibility criteria. Ten HRQOL studies and one adherence study used a longitudinal design, none of these in South Africa. A variety of different generic and disease-specific HRQOL measures were identified in the articles. In South Africa four HRQOL and five adherence studies (non-longitudinal) were published. Similar factors (socio-demographic, socio-economic, disease-related, therapy-related and psycho-social aspects) affect HRQOL and adherence. Although standard TB treatment improved all health domains, psychological well-being and social functioning remained impaired in microbiologically cured patients after treatment.
Conclusion
While evidence of TB impact on HRQOL and medication adherence and their association exists, it is verylimited for the South African situation. No valid and reliable TB-specific HRQOL measures were identified in this systematicreview. An assessment of HRQOL in TB patients in South Africa is required as this may assist with improving current disease management programmes, medication adherence and national treatment guidelines.
Keywords
Health-related quality of lifeMedication adherenceTuberculosisPatient-reported outcomesSouth Africa
Background
The global burden of tuberculosis (TB) is still a major public health concern although the United Nation's Millenium Development Goals (MDGs) target to reverse TB incidence by 2015 has been achieved. Around 9.6 million new TB cases and 1.5 million TB deaths were estimated to occur in 2014 worldwide [1]. Twenty-two high-burden countries defined by the World Health Organization (WHO) account for 80 % of all TB cases. Despite the availability and affordability of effective TB medication South Africa has the highest prevalence and incidence rates (696 and 834 cases per 100,000 population) among these countries [1] TB is South Africa's leading cause of mortality (134 cases per 100,000 population). TB is known to impact health-related quality of life (HRQOL) [2–4]. Effective treatment, relapse and the emergence of multi-drug resistant TB (MDR-TB) are closely related to TB treatment adherence and consequent HRQOL [5]. The assessment of an association between both, HRQOL and medication adherence in TB, would provide valuable information on treatment effectiveness, optimal disease management and health policy making.
Patient-reported outcomes (PRO's) provide unique evidence of different aspects of the experience of living with a disease or condition and how important these aspects are to patients. In this sense, they go beyond clinical parameters and respect the integrated nature of health, ideally encompassing physical, mental and social well-being. The measurement of HRQOL using PRO's allows for a multidimensional understanding of health, an evaluation of disease and treatment impact on the health condition and the patients' daily life. It is strongly related to the World Health Organization's (WHO's) definition of health as "a state of complete physical, mental and social well-being and not merely the absence of disease or infirmity" [6]. A comprehensive knowledge of HRQOL in TB patients can allow for identification of treatment gaps. Addressing these gaps will lead to improvement of health care services and disease prevention strategies, and support health policy making. A number of countries such as the UK, Germany and Australia rely on PRO data about medical interventions for pricing, reimbursement and health policy decision-making about medical interventions. South Africa is becoming increasingly aware of the importance of such outcome evaluations and has released its first guidance on pharmacoeconomic submissions in February 2013 [7]. The aim of this systematic review was to understand HRQOL and medication adherence during TB treatment and how both concepts are associated based on international literature. Longitudinal studies were of particular interest to understand changes in HRQOL and adherence during the course of TB treatment. The focus of this research lies on active pulmonary TB and not on latent TB (LTBI), MDR-TB, XDR-TB, TB in children or TB with HIV co-infection, as these types of TB show different HRQOL outcomes [8]. As South Africa suffers from a major TB burden, we put a specific focus on HRQOL and adherence to TB treatment in the South African health setting.
Review
Methods
Search strategy for identification and selection of relevant studies
A systematic literature search has been performed in PubMed, EMBASE and PsychINFO, with the last search conducted on 22 February 2015. Search terms applied included tuberculosis, health related quality of life, HRQOL, quality of life, South Africa, patient-reported outcomes, outcome assessment, life quality, well-being, adherence, non-adherence and compliance; different combinations were used (Table 1 in the Additional file 1). Each search term combination resulted in different initial hits which were screened by title and abstract. Articles were excluded if they were not related to the pre-defined search terms or were published in a language other than English. Duplicates were removed. The full texts of all remaining articles were reviewed. References cited by the identified publications were additionally scanned for relevant studies. Data on TB and adherence was additionally taken from the WHO and the Department of Health of the Republic of South Africa. Data from articles with a longitudinal study design were separately extracted and included when psychometric validity and reliability were reported for HRQOL or adherence measures, when changes in HRQOL during TB treatment including at least baseline and end of treatment were reported, and when the study population consisted of new TB cases treated as outpatients.
Data quality and data extraction
Data from all identified articles was extracted and structured according to physical, mental and social health aspects of HRQOL; data on medication adherence was summarized. Research on HRQOL and medication adherence in South Africa was described separately. In addition, studies with a longitudinal design were subject to a separate; subsequent data extraction performed by two independent reviewers. This additional extraction covered the PICOS elements (P = population, I = intervention, C = comparator or control, O = outcome, S = study design), with additional items covering major research topic, study objective, study setting, sample size, PRO measure applied and measurement time points. Prior to data extraction, all longitudinal studies underwent quality assessment. As longitudinal studies were observational in nature, quality of reporting was evaluated using the Strengthening the Reporting of Observational Studies in Epidemiology (STROBE) statement [2]. A STROBE quality checklist with 8 items was applied, with scores ranging from 0 (no quality) to 16 (best quality) [2].
Results
Our literature search in PubMed, EMBASE and PsychINFO yielded 988 initial hits. After screening by title and abstract and after removal of duplicates, 61 articles remained. An addition of three WHO reports, two guidelines from the South Africa's Department of Health and one article identified by hand search of citations resulted in 67 eligible articles for this systematic review. One article was excluded, yielding 66 eligible full-text articles (Fig.
1
). A detailed description of the literature search is available in the Additional file
1
: Figure 1-4. The 66 articles comprised 22 cross-sectional studies, 17 longitudinal studies, 7 (systematic) reviews, 8 qualitative studies and 12 articles including editorials, comments and letters (Table 2 in the Additional file
1
). Nine studies were performed in South Africa (four HRQOL and five medication adherence studies; Table 4 in the Additional file
1
). All final 66 articles underwent extraction of information about HRQOL and adherence in TB. The 17 identified longitudinal studies were potentially eligible for separate data extraction; 11 of them actually met the eligibility criteria for separate data extraction, while 6 studies were excluded as eligibility criteria were not met (Table 3 in the Additional file
1
). Application of the STROBE quality of reporting checklist to the 11 longitudinal studies resulted in a median score of 7 for HRQOL studies, with scores ranging from 5 to 11 out of 16 (the greater the score the higher the quality of reporting). The adherence study had a score of 10 (Table 3 in the Additional file
1
).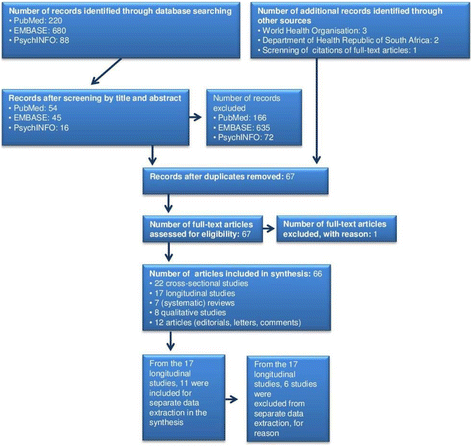 Discussion
This systematic review addressed the issues relevant to understand the impact of TB on HRQOL and medication adherence from a global perspective and specifically for South Africa using an integrative health approach. TB impacts the physical, emotional, psychological, social and economic dimensions of HRQOL, and residual impairment may be still present after treatment. We identified thirty-six studies evaluating HRQOL in TB of which twenty-one studies took place in WHO's high-burden TB countries. Atif et al. [
67
] reported that most HRQOL studies in TB so far applied a cross-sectional design and our systematic review confirms this finding. Thirteen studies across high-burden countries had a cross-sectional design while only eight studies evaluated longitudinal changes (Table
2
). To date, very few studies have followed changes in HRQOL longitudinally over time in TB patient populations. No longitudinal study has been conducted in South Africa even though South Africa has the highest prevalence and incidence among the 22 high-burden TB countries worldwide. Our understanding of the long-term impact of TB on HRQOL, covering the time of treatment and after treatment, is limited. There is a need for further research assessing changes in HRQOL longitudinally, specifically in high-burden countries like South Africa. Most studies on medication adherence during TB treatment employed a qualitative approach observing psychometric aspects of adherence. One systematic review of qualitative studies reported an association between HRQOL and adherence TB [
5
]. We found that similar factors affect HRQOL and adherence including TB therapy, health condition, socio-economic and demographic factors as well as quality of health care services. Studying the association between HRQOLand medication adherence during TB treatment will allow for a better understanding of how treatment effectiveness can be improved and care for TB patients optimised.
Table 2
Eligible Studies included in Data Extraction
| WHO high-burden country | Total Number of HRQOL studies | Cross-sectional Design | Longitudinal Design |
| --- | --- | --- | --- |
| China | | 1 | 1 |
| India | | 1 | 5 |
| Indonesia | | | 2 |
| Nigeria | | 2 | |
| Pakistan | 1 [55] | 1 | |
| Philippines | 1 [9] | 1 | |
| South Africa | | 6 | |
| Uganda | 1 [11] | 1 | |
| Other countries | Total Number of HRQOL studies | Cross-sectional Design | Longitudinal Design |
| Canada | | 2 | 1 |
| Iraq | 1 [58] | | 1 |
| Malaysia | | 3 | 1 |
| Taiwan | 1 [20] | | 1 |
| Thailand | 1 [21] | 1 | |
| UK | 1 [39] | | 1 |
| USA | | 2 | |
| Western Iran | 1 [65] | | 1 |
| Yemen | 1 [23] | 1 | |
The studies included in this systematic review revealed similar HRQOL outcomes with a number of different measures, but a TB-specific measure is lacking. Although two studies reported developing TB-specific measures, FACIT-TB in Iraq [59] and DR-12 in India [68], neither provides adequate evidence for validity or reliability. Measures applied during longitudinal HRQOL studies were generic (SF-36, WHOQOL-BREF, EQ-5D) and dimension-specific measures, either for depression (BDI and Center for Epidemiologic Studies Depression Scale) or for anxiety (State-Trait Anxiety Short Form), one measure was specific for respiratory diseases (SGRQ). All measures reported similar HRQOL outcomes for TB and confirmed that physical health domains were more affected than mental health domains. All health domains for each measure improved during TB treatment. However, physical impairment was still present after treatment. The measures only capture parts of the health domains relevant to TB or may not be sensitive enough to observe the actual impact of TB on HRQOL. This implies the need for a TB-specific PRO measure which captures all relevant health domains and health aspects of TB including the physical, psychological and social domains. Such a measure will need to consider socio-demographic and cultural differences between patients with TB, taking into account the stigma of HIV and how the social standing of the patient within his or her community is affected. The development of such a specific measure will also allow a deeper understanding of MDR-TB, TB/HIV co-infection and extrapulmonary TB. Future studies should also include the identification of minimal clinically important difference (MCID), i.e. the smallest difference in a domain which patients perceive as an improvement or a worsening; This is unknown for TB patients and will allow understanding meaningful changes in HRQOL.
Current evidence regarding the association between HRQOL and adherence in TB is lacking globally. Future research about the association between HRQOL and adherence in TB specific will help to optimize existing treatment programs, understand the limitations in TB control and targeted interventions and improving the health status of high-burden TB populations. The WHO's End TB Strategy targets a TB free world by 2035. One of the three strategic pillars to reach this goal focuses on integrated, patient-centred TB care and prevention. HRQOL assessment allows an integrative understanding of TB from a patient perspective. Resulting knowledge supports an understanding of TB-related physical, mental and social needs and addresses diverse barriers. This patient-centred approach may support quality assessment and rationale use of medicines, which fall under the pillars of the End TB Strategy.
This systematic review had several strength and limitations. It combined qualitative and quantitative research on HRQOL and adherence and this mixed method may be viewed as strength as it ensures capturing all relevant information on the topic. The methodological quality of the eligible studies varied and might have an effect on the reported outcomes. We only applied the STROBE Statement for quality reporting to longitudinal studies; we observed a moderate reporting quality with a median of 7 out of 16 points, indicating that the quality of the articles included in this review were fairly poor. This might affect the reported information. Most studies applied different PRO measures at differing time points during treatment at different study sites, making any general conclusions regarding the impact of TB on HRQOL difficult. Studies had an observational nature rather than a controlled trial design as mostly applied in systematic reviews; however, observational studies might be more reliable as they observe patients in real life rather than under controlled ideal conditions. Publication bias may be present in this systematic review although our findings were consistent across different settings; we selected peer-reviewed literature from three different databases and included grey literature to control for publication bias. We did not include unpublished information and studies published in a different language than English.
Conclusions
The relevance and importance of HRQOL assessments is growing and HRQOL has become an important tool for the understanding of health outcomes adopting a patient-centred approach to care and treatment. Further research is required in a country-specific context to contribute to efficient decision making with regard to TB related strategies; product approval, pricing and reimbursement as well as health policy making; A number of new anti-TB drugs, vaccines and diagnostics have recently achieved marketing approval or are in late clinical development.Assessment of longitudinal changes in HRQOL and its association to medication adherence in TB in a high TB burden country such as South Africa are not yet available. Such data would support the identification of sustainable health innovations in TB by providing information on benefits and gaps in current treatment strategies tailored for a specific patient population. This will be useful to determine the value of new products and to perform appropriate cost-effectiveness analyses to optimize the allocation of societal resources specifically for South Africa. This is of high relevance as a number of new TB drugs, vaccines and diagnostics have recently achieved marketing approval or are in late clinical development. A longitudinal study assessing HRQOL and medication adherence in active TBin South Africa applying valid and reliable measures that capture all relevant aspects of TB would be necessary to assess the achievement of the WHO's End TB Strategy pillars.
Declarations
Acknowledgements
This study is part of the Swiss South African bilateral cooperation and part of the study was supported through a grant of the Swiss Tropical and Public Health Institute (Basel/Switzerland).
Open AccessThis article is distributed under the terms of the Creative Commons Attribution 4.0 International License (http://creativecommons.org/licenses/by/4.0/), which permits unrestricted use, distribution, and reproduction in any medium, provided you give appropriate credit to the original author(s) and the source, provide a link to the Creative Commons license, and indicate if changes were made. The Creative Commons Public Domain Dedication waiver (http://creativecommons.org/publicdomain/zero/1.0/) applies to the data made available in this article, unless otherwise stated.
Authors' Affiliations
(1)
Swiss Tropical and Public Health Institute (Swiss TPH), Basel, Switzerland
(2)
University of Basel, Basel, Switzerland
(3)
Health Economics Unit, School of Public Health and Family Medicine, Faculty of Health Sciences, University of Cape Town, Cape Town, South Africa
(4)
Division of Clinical Pharmacology, Faculty of Medicine and Health Sciences, Stellenbosch University, Stellenbosch, South Africa
(5)
Endpoint Development and Outcomes Assessment, Adelphi Values, Bollington, UK
(6)
Institute of Pharmaceutical Medicine, University of Basel, Basel, Switzerland
(7)
Epidemiology, Biostatistics and Prevention Institute, University of Zürich, Zürich, Switzerland
Copyright
© Kastien-Hilka et al. 2016