The ChQoL questionnaire: an Italian translation with preliminary psychometric results for female oncological patients
Health and Quality of Life Outcomes
2010
8:106
Received: 16 January 2010
Accepted: 25 September 2010
Published: 25 September 2010
Abstract
Background
in Occidental languages, no widely accepted questionnaire is available which deals with health related quality of life from the specific point of view of Traditional Chinese Medicine (TCM). Some psychometric tools of this kind are available in Chinese. One of them is the Chinese Quality of Life questionnaire (ChQoL). It comprises 50 items, subdivided in 3 Domains and 13 Facets. The ChQoL was built from scratch on the basis of TCM theory. It is therefore specifically valuable for the TCM practitioner. This paper describes our translation into Italian of the ChQoL, its first application to Occidental oncological patients, and some of its psychometric properties.
Methods
a translation scheme, originally inspired by the TRAPD procedure, is developed. This scheme focuses on comprehensibility and clinical usefulness more than on linguistic issues alone. The translated questionnaire is tested on a sample of 203 consecutive female patients with breast cancer. Shapiro-Wilk normality tests, Fligner-Killeen median tests, exploratory Two-step Cluster Analysis, and Tukey's test for non-additivity are applied to study the outcomes.
Results
an Italian translation is proposed. It retains the TCM characteristics of the original ChQoL, it is intelligible to Occidental patients who have no previous knowledge of TCM, and it is useful for daily clinical practice. The score distribution is not Normal, and there are floor and ceiling effects. A Visual Analogue Scale is identified as a suitable choice. A 3-point Likert scale can also efficiently describe the data pattern. The original scales show non-additivity, but an Anscombe-Tukey transformation with γ = 1.5 recovers additivity at the Domain level. Additivity is enhanced if different γ are adopted for different Facets, except in one case.
Conclusions
the translated questionnaire can be adopted both as a filing system based on TCM and as a source of outcomes for clinical trials. A Visual Analogue Scale is recommended, but a simpler 3-point Likert scale also suitably fits data. When estimating missing data, and when grouping items within Domain in order to build a summary Domain index, an Anscombe-Tukey transformation should be applied to the raw scores.
Keywords
Visual Analogue ScaleTraditional Chinese MedicineResponse ScaleTranslation ProcedureVerbal Descriptor
Background
Traditional Chinese Medicine (TCM) has enjoyed a great deal of exposure in Occidental countries. As a consequence, there is an increasing need for psychometric tools specifically tailored to TCM. Tools developed in different medical contexts can of course be of use, but they are not necessarily optimal. The theoretical foundations of TCM are often unfamiliar to Occidental patients, so that Health Related Quality of Life (HRQoL) may be conceptualized differently by the TCM practitioner and the Occidental patient. On the one hand, quantitative psychometric tools are required to provide sound outcomes for clinical trials. On the other hand, the employment of generic tools, not specifically tailored to TCM, may result in insufficient sensitivity for those clinical trials. A standardized psychometric instrument based on TCM would be very useful, but at present no widely accepted generic questionnaire is available in Occidental languages.
In 2005 our Oncological Rehabilitation (O.R.) Unit started a data collection project, concerning acupuncture and TCM. On this basis, we later initiated a randomized clinical trial on the effectiveness of acupuncture treatments for breast cancer patients undergoing chemotherapy. Our aim was to ascertain whether acupuncture could relieve some of the side effects of chemotherapy. The generic EORTC QLQ-C30 questionnaire [1] and its related breast cancer specific module BR-23 were used in order to provide the main outcome, but the adoption of an additional questionnaire concerning HRQoL from the specific point of view of TCM was considered desirable.
The Chinese Quality of Life questionnaire (ChQoL) developed by Leung et al. [2–5] was identified as a possible option, due to its peculiarities with respect to the evaluation of acupuncture results. Being able to quantify HRQoL according to TCM was its explicit goal. The main characteristics of the ChQoL were its lack of specialization, its orientation to generic medicine, and the fact that it was highly structured. The questionnaire comprised 50 items, subdivided into 13 "Facets"; the Facets were grouped into 3 "Domains", namely "Physical Form", "Vitality & Spirit", "Emotion". Furthermore, this structure was built from scratch directly on TCM theoretical considerations, and then validated using Factor Analysis and Structural Equation Modeling [2, 3].
The ChQoL was developed in Chinese. To our knowledge, no published translation is available in any Occidental language, except for a provisional "tentative" English translation reported in [2]. The present paper describes the translation procedure we adopted, the resulting Italian questionnaire, the score distribution in a sample of 203 patients, and some modifications to the response scales with respect to the original questionnaire. These modifications were deemed useful to adapt the ChQoL to the Italian cultural context. Some issues concerning internal consistency and additivity of scales are also considered. Our main interest at present is applicability to oncological patients. All the numerical results here reported concern a sample of female patients suffering from breast cancer.
Methods
Translation procedure
We adopted an iterative, multi-step, committee-based translation approach. Our procedure was initially inspired by the TRAPD framework ([6–8]; see also [9]). TRAPD is the acronym for five subsequent (but interrelated) phases: Translation, Review, Adjudication, Pre-testing and Documentation. This framework is particularly in use in social sciences, where cross-cultural differences are often an issue. However, the TRAPD original scheme was adapted and enlarged, so as to meet the specific needs of a TCM based instrument addressed to Occidental patients.
Figure
1
shows a detailed flow chart of the translation procedure. Two separate translations were obtained, directly from the Chinese source. One was considered as "main" and one as "secondary". The two translators worked separately and independently. Both translators spoke mother tongue Italian, and had already received training in TCM at the time of translation. The first translator was a professional sinologist and interpreter, who had been residing in Beijing for several years. His work was intended to provide the best possible rendering of the original source into Italian, especially from the point of view of Conceptual and Semantic equivalence (we classify equivalence according to Herdman et al. see [
10
,
11
]). This was considered as the "main" translation. The second translator was a professional data analyst, with a background in questionnaire design and analysis. His task was more focused on disclosing issues regarding Operational and Measurement equivalence. This was considered as a "secondary" translation, to be used in suborder with respect to the first one.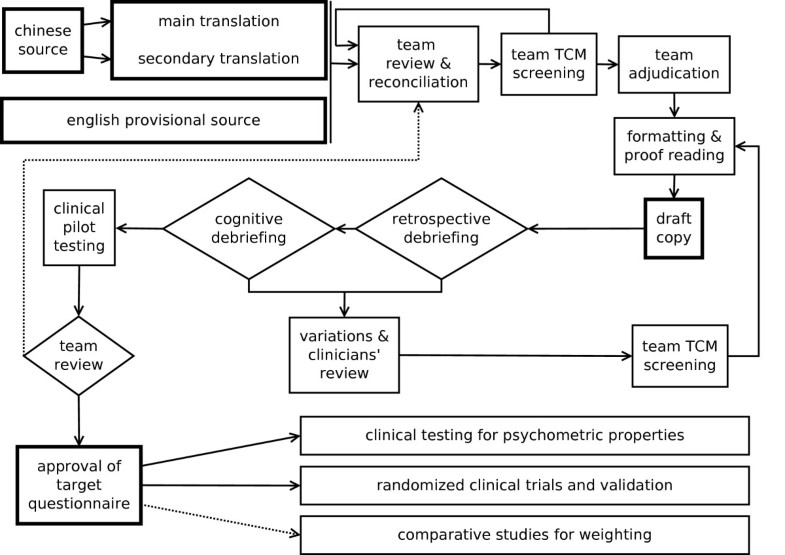 A first series of meetings ("team review & reconciliation" in Figure 1) was held to review the two translations and the English source, and to reconcile them into a suitable Italian version. These meetings were attended by two medical doctors, the first translator, and the project coordinator (who was also the secondary translator). The two medical doctors were Italian acupuncturists, who had been studying and practicing TCM with patients for many years. Each component of the team was provided with the two translations and with the provisional "tentative" English version published by the original Chinese authors. After the team reached an agreement, a first reconciled Italian version was produced. At this stage, it was also decided to abandon the Likert scale adopted in the Chinese source, in favor of a Visual Analogue Scale (VAS). Therefore appropriate verbal descriptors were created, two for each line in the VAS. The reconciled version was further considered by the two medical doctors ("team TCM screening"), in order to screen adherence to TCM theory and to examine issues of comprehensibility on behalf of patients. Minor variations were proposed, and accepted by the team. A final meeting ("team adjudication") was held among the four components of the team, to agree on a final version. After formatting and proof-reading, a draft copy of the Italian version ("ChQoL-IT") was produced.
The draft copy was tested with a first round of retrospective debriefing interviews [12]. Eight volunteers received concise information about TCM and VAS, and then completed the questionnaire without supervision. Either a generic psychologist supervised by a medical doctor or a clinical psychologist alone reviewed the completed questionnaire together with each respondent, investigating missing data, problems of comprehension, and possibly offensive or problematic wording. Apart from these three issues, comments from the respondents were never solicited, but the interviewer was instructed to welcome any spontaneous comment.
The retrospective debriefing round was followed by cognitive debriefing interviews with 12 other volunteers. The questionnaire was completed without supervision. A medical doctor discussed the completed questionnaire with the respondent, on an item-by-item basis. The discussion aimed to detect if the original meaning had been correctly preserved in the translation, and if any unclear or ambiguous wording could generate misinterpretations. It was also specifically verified that the polarity of scales had been correctly recognized. The number of items was too high to discuss the entire questionnaire in one single interview. The questionnaire was divided into two parts, keeping either even or odd numbered items, and each volunteer was interviewed on one part only.
The results from the retrospective and cognitive interviews were analyzed by the project coordinator. On this basis, some variations concerning response scales and their verbal descriptors were proposed. The variations were reviewed by the two medical doctors ("variations & clinicians' review"), and after a new discussion concerning adherence to TCM theory ("team TCM screening") were approved by the team. After formatting and proof-reading, a new draft copy was finalized. An additional round of debriefing interviews was considered necessary, but it eventually yielded no further improvement.
The draft copy was therefore employed, without changes, to test clinical applicability ("clinical pilot testing" in Figure 1). The purpose was to ascertain differences between the patient's response and the doctor's opinion. The questionnaire was self-administered. Each response was then compared with what the doctor considered correct for that patient. Of course, this comparison was only possible for a few items, some issues being too personal to allow an external assessment. The full results are not part of this paper, and this topic will be covered in detail elsewhere. Preliminary results can be found in [13]. As far as it is of interest here, the comparison did not bring to light any specific bias which could advise against self-administration. The unattended modality of administration was consequently deemed valid for clinical use.
At a recapitulatory final meeting ("team review" in Figure 1) the team appraised the translated questionnaire according to four criteria: adherence to the original meaning, significance for TCM, clinical usefulness, and psychological impact on patients. The translation was considered satisfactory, and it was approved as the final version of the ChQoL-IT.
Three further actions were planned, as described in Figure 1: extensive clinical testing for psychometric properties, randomized clinical trials including validation, and comparative studies for weighting of scores in cross-cultural studies. The first has been accomplished, and its results will be described in the following paragraphs. A randomized clinical trial to evaluate the effects of acupuncture during chemotherapy has already been completed, and data analysis is in progress. The third action has been delayed, waiting for the full results from the randomized clinical trial.
Clinical Testing
The questionnaire was handed to 230 consecutive patients. All patients were female, and had been recently diagnosed with breast cancer. All of them were undergoing, or were expected to undergo in a short time, conventional cancer treatment. No patient had previously received treatment with TCM at our Unit. The ChQoL-IT was self-administered, but prior to compilation each respondent was instructed on the questionnaire structure and aims, and on some aspects of TCM. The briefing was conducted by a medical doctor, and lasted less than 10 minutes. All the respondents were completing the questionnaire for the first time.
Of the 230 questionnaires, 27 had missing data and were not considered in the final sample. The reason is that, until data additivity has been either proved or recovered with proper techniques, handling of missing data is not straightforward. The usual linear techniques would not be applicable. Additivity will be considered in detail in the Discussion. Apart from this, no selection was made. The age of the 203 respondents ranged from 27 to 93 years, mean age ± SD was 57 ± 13 years, median age was 56 years. Only 106 out of 203 patients declared occupational status: 33% clerks and employees, 32.1% homemakers, 24.5% retired, 5.7% self-employed workers (professionals, managers, storekeepers, retailers), 3.8% manual workers, 0.9% unemployed. Data collection started on February 2006 and ended on September 2007.
This study was approved by the local Ethical Committee. Permission to conduct the study was obtained from the Head of the O.R. Unit. Written informed consent was obtained from the 20 participants in the debriefing interviews. No written informed consent was considered necessary for the 230 patients, because the ChQoL-IT just provided a rational, well organized modality to conduct the TCM examinations, identical to the examination the patient was currently undergoing. In fact, several questions in the ChQoL were already standard topics of those examinations. The adoption of the ChQoL-IT simplified the daily routine work, and it did not impose additional or unnecessary burden on patients.
Data analysis
All scores were normalized to 0-100, the higher scores corresponding to a better health status. The score distribution was studied with Shapiro-Wilk normality tests and Fligner-Killeen median tests. Exploratory Two-step Cluster Analysis was also applied. The computation assumed an initial maximum of 15 clusters, a Bayesian information criterion for determining their number, noise handling at 25% for defining outliers, and minus log-likelihood for distance between clusters. The likelihood metric was preferred to the Euclidean because it resulted in a much lower number of outliers with our data. Scale additivity was examined by means of a Tukey's test for non-additivity (TTN) [14, 15], including the Anscombe-Tukey power transformation. Calculations were performed using SPSS version 15 (SPSS Inc., Chicago IL) and the R statistical package version 2.7.2 (R Foundation for Statistical Computing).
Results
Target Questionnaire
The final target questionnaire ChQoL-IT is available in pdf format (Additional file 1). The 50 items are numbered progressively, grouped by Facet and Domain. The response scale is a VAS with horizontal lines, delimited at their extremities by short vertical lines, to avoid marking off the scale [16]. Lines have no gradations, to preserve sensitivity [17]. They are of equal length, and verbal descriptors are placed close to their extremities. For each item, the left side of the scale corresponds to a poor health status, whilst the right side corresponds to a better health.
Clinical Testing
This confirms that the clustering algorithm works properly with these data. The overall distribution of centroids is sharp for the intermediate and the right-end clusters (standard deviations 4.3 and 5.0 respectively). The spreading for the left-end cluster, which corresponds to a worse health status, is three times as much (standard deviation 13.9). The two outermost centroids are not equidistant from the half point of the VAS (score 50), their average half point being 58.4 (confidence interval at p = 0.95: 56.1-60.7). This means a slight shift towards a better health status. When the analysis is limited to the three clusters (15 cases), the intermediate cluster is centered on 50.8 (confidence interval at p = 0.95: 48.4-53.1), which is statistically compatible with the half point of the VAS.
Conclusions
The applicability of TCM questionnaires to Occidental patients should not be taken for granted, as cultural differences may play a decisive role. Clinical usefulness, comprehensibility, and adherence to the original source represent important but possibly competing requirements. We propose a customized translation procedure in order to meet these requirements. The resulting Italian version of the ChQoL questionnaire has proven to be comprehensible and meaningful for the Occidental layperson, and applicable to a sample of female oncological patients suffering from breast cancer. Scales for this sample show evidence of non-additivity, but additivity is recoverable with a simple γ = 1.5 Anscombe-Tukey transformation. The tasks of estimating missing data and of constructing summary scores are consequently simplified. The translated questionnaire can therefore be adopted in clinical trials, to provide quantitative outcomes for TCM.
Our results are based on a VAS, but we show that a simpler 3-point Likert scale also provides a good description of data. In both cases, we relinquish Operational equivalence regarding the original source questionnaire, which uses a 5-point Likert scale. More research is needed to fully assess the five other types of equivalence, and also to shed light on certain reliability issues.
Abbreviations
ChQoL:

Chinese Quality of Life questionnaire
TCM:

Traditional Chinese Medicine
HRQoL:

Health Related Quality of Life
O.R.:

Oncological Rehabilitation
VAS:

Visual Analogue Scale
TTN:

Tukey's Test for Non-additivity.
Declarations
Acknowledgements
We wish to thank the head of the Oncological Rehabilitation Unit, G. Forno, MD, for making this work possible and for providing valuable advice. The help and assistance from the entire staff of the O.R. Unit are also gratefully acknowledged. Associazione Studio Interculturale QiGong (ASIQ, Genova, Italy) covered the article-processing charges, imposing no constraint or limitation whatsoever.
Authors' Affiliations
(1)
Istituto Nazionale per la Ricerca sul Cancro, S.S. di Riabilitazione Oncologica, Genova, Italy
(2)
Sacmar srl, Settimo Milanese, Italy
Copyright
© Aschero et al; licensee BioMed Central Ltd. 2010
This article is published under license to BioMed Central Ltd. This is an Open Access article distributed under the terms of the Creative Commons Attribution License (http://creativecommons.org/licenses/by/2.0), which permits unrestricted use, distribution, and reproduction in any medium, provided the original work is properly cited.