Reduction in patient burdens with graphical computerized adaptive testing on the ADL scale: tool development and simulation
Health and Quality of Life Outcomes
2009
7:39
Received: 14 February 2009
Accepted: 05 May 2009
Published: 05 May 2009
Abstract
Background
The aim of this study was to verify the effectiveness and efficacy of saving time and reducing burden for patients, nurses, and even occupational therapists through computer adaptive testing (CAT).
Methods
Based on an item bank of the Barthel Index (BI) and the Frenchay Activities Index (FAI) for assessing comprehensive activities of daily living (ADL) function in stroke patients, we developed a visual basic application (VBA)-Excel CAT module, and (1) investigated whether the averaged test length via CAT is shorter than that of the traditional all-item-answered non-adaptive testing (NAT) approach through simulation, (2) illustrated the CAT multimedia on a tablet PC showing data collection and response errors of ADL clinical functional measures in stroke patients, and (3) demonstrated the quality control of endorsing scale with fit statistics to detect responding errors, which will be further immediately reconfirmed by technicians once patient ends the CAT assessment.
Results
The results show that endorsed items could be shorter on CAT (M = 13.42) than on NAT (M = 23) at 41.64% efficiency in test length. However, averaged ability estimations reveal insignificant differences between CAT and NAT.
Conclusion
This study found that mobile nursing services, placed at the bedsides of patients could, through the programmed VBA-Excel CAT module, reduce the burden to patients and save time, more so than the traditional NAT paper-and-pencil testing appraisals.
Keywords
Item Response Theory
Barthel Index
Item Bank
Computerize Adaptive Testing
Person Measure
Background
Many hospitals in Taiwan have implemented a mobile computer cart, which is also called a computer on wheels (COW) or a tablet PC. It is small, compact, wireless, and easy to fit a ward. Nurses or physicians can easily roll up a COW to access charts and perform their rounds. Besides, occupational therapists can help patients self-rate their ability to perform tasks in living and working environments with this promising device.
The Motion C5 [1], also known as the mobile clinical assistant (MCA), which integrates technology from Intel® Health, not only brings reliable, automated, patient data management directly to the point of care, but also combines and increases productivity and improves overall quality of care. Although many studies [2, 3] have addressed the fact that clinicians and medical staff prefer a tablet PC over a mobile cart with a laptop computer for supporting electronic clinical documentation, it is of interest to study whether computerized adaptive testing (CAT), based on item response theory (IRT) [4], could further enrich the advantage of using a tablet PC in evaluating patients' activities of daily living (ADL) functions.
There are many clinical functional scales, such as the Barthel Index, Frenchay Activities Index, Functional Independence Measure, Berg Balance Scale, Fugl-Meyer Motor Assessment Scale, Wolf Motor Function Test, Stroke Impact Scale and others. The psychometric properties of these scales are often investigated using classic test theory where a raw score is generally used to describe a patient's level of ADL function. CAT, based on IRT, is a method of administering tests that adapts to an examinee's latent trait level. CAT can save time and alleviate burden to patients and technicians than traditional non-adaptive paper-and-pencil or computerized-based assessments [5–7]. CAT has attracted many researchers' attention because it has a better control of item exposure and a less cost consumption on item development in medical and healthcare professions.
Purposes
The aim of this study is to verify how CAT can save time and reduce burden for patients and technicians, through the following three steps: (a) A simulation study was conducted to justify that CAT needs a shorter test length than traditional non-adaptive testing(NAT) to achieve a similar degree of measurement precision; (b) A graphical CAT multimedia on a tablet PC was demonstrated to collect data of ADL clinical functional measures in stroke patients; (c) The quality control fit statistics and unexpected standardized residuals derived from Rasch analysis [8] was used to detect responding errors, which were further immediately reconfirmed by technicians with regard to patient's response.
Results
Efficiency of CAT
Among the 1,000 simulated persons, 826 had neither a zero nor a perfect raw score. As shown in Table
2
, CAT did not yield person measure estimates that were statistically different from non-adaptive testing (
p
= .78); and CAT had a shorter test length than NAT (
p
< .01). NAT took all the 23 items, whereas CAT took an average test length of 13.42 items. Thus, the efficiency of CAT was supported. Each round of a CAT test can save at least five minutes to both patient and occupational therapist, and can reach a much more accurate set of responses through outline Z-score examination than NAT.
Table 2
Comparison of CAT and non-adaptive testing (NAT) in measurement efficiency with the t-test
| | Mean | Variance | Observed | Maximum | Minimum | p-value |
| --- | --- | --- | --- | --- | --- | --- |
| Estimated Ability: | | | | | | |
| NAT | -0.23 | 9.19 | 826 | 5.22 | -8.62 | .78 |
| CAT | -0.20 | 8.92 | 826 | 4.76 | -8.62 | |
| Test length: | | | | | | |
| NAT | 23 | 0 | 826 | 23 | 23 | < .001 |
| CAT | 13.42 | 62.04 | 826 | 23 | 5 | |
CAT on a tablet PC in healthcare settings
(1) Provisional person measure
To demonstrate ADL assessment by CAT on a tablet PC, we show in Table
3
the item selection procedures and the stopping rules. At the beginning, a randomly selected item (e.g., FAI6 with difficulty 0.59) was administered to a person whose provisional person measure was set at zero. The simulated response was "fail" (scored as 0) and an easier item (i.e., BI4 with difficulty -0.77) was administered. The simulated response was "passed" (scored as 1). Since there were both "pass" and "fail", the person measure can be updated through the Newton-Raphson iteration approach [
17
], which was 0.21, with SEM 2.43 at step 2.
Table 3
A case of the CAT responding process (Yes = 1, No = 0) with a sequence of item selection.
| Step | Response | Ability | SEM | Items | Difficulty |
| --- | --- | --- | --- | --- | --- |
| 1 | 0 | - | 2.77 | FAI6: local shopping | 0.59 |
| 2 | 1 | 0.21 | 2.43 | BI4: dressing | -0.77 |
| 3 | 1 | 0.87 | 1.86 | BI2: bathing | 0.55 |
| 4 | 1 | 1.76 | 1.39 | FAI10: driving a car/bus travel | 1.83 |
| 5 | 1 | 2.42 | 1.15 | FAI4: light housework | 1.95 |
| 6 | 1 | 3.07 | 1.00 | FAI5: heavy housework | 2.75 |
| 7 | 0 | 2.65 | 0.96 | FAI2: washing up | 3.09 |
(2) Item selection and stop criterion
Given a provisional person measure of 0.21, the next item to be administered was the one that provided the highest information about the person, which was BI2 with 0.55. The simulated response was "passed" and the person measure was updated as 0.87 with SEM 1.86 at step 3. This procedure repeated until step 7 where FAI2 with difficulty 3.09 was administered and the updated person measure was 2.65 with SEM 0.96. CAT stopped because SEM was smaller than the criterion of 0.965.
(3) Aberrant responses examined by Z-score
1. Graphical multimedia CAT along the patient bedside
The screenshot of the CAT implementation on a tablet PC is shown in Figure
2
. Linacre [
19
] stated that a person would be deemed a severe aberrant responder to the test when the outfit mean square error (MNSQ) is greater than 2.0 together with a
Z
beyond ± 2 (the expected outfit MNSQ is 1 for a good fit [
20
]). An occupational therapist can use this statistic to check whether the response pattern is aberrant. If not so like the illustrator of Outfit MNSQ 1.07 on the upper-right corner in Figure
3
, one then has confidence that the responses can reveal valuable information about the respondent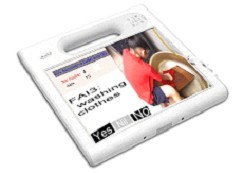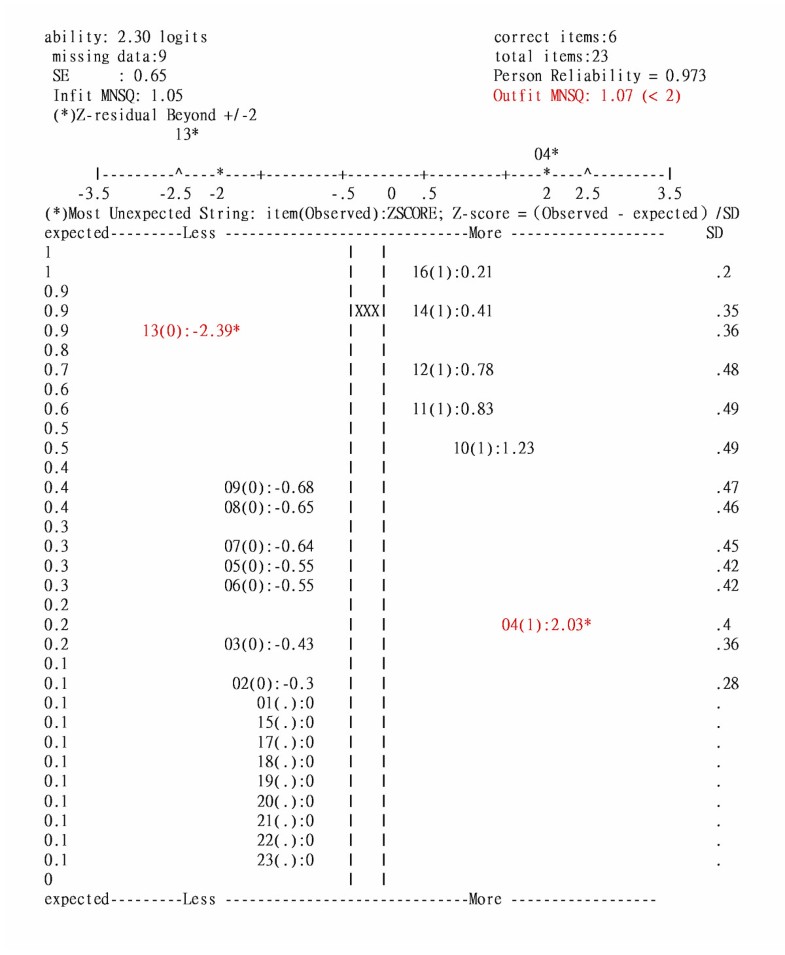 2. Outline aberrant responses examined by Z-score
In Figure 3, one can easily observe that the person with ability 2.30 failed on item 13 with difficulty 0.59, as shown in the upper-left of Figure 3. This was an aberrant response because the probability of success for such a person on such an item was as high as .90. Another aberrant response was found on the lower-right of Figure 3, where the person passed item 4 unexpectedly because the probability of success on that item was as low as .20.
Figure 3 can be plotted on the screen of the tablet PC once the patient completes the CAT. The patient in this case might be required to complete these two tasks again in order to submit accurate responses to the healthcare database.
Discussion
The item bank was chosen from Hsueh et al. [9] which measures ADL for stoke patients. We successfully developed a VBA-Excel CAT module and demonstrated how CAT can be used to reduce patient and proxy burdens, and improve data collection and quality measurement. Through simulations, it was found that CAT can save up to 42% of test length and achieve a very similar degree of measurement precision as NAT. This is consistent with the literature [5–7]. This study also found that mobile nursing services along the bedsides of patients, through the programmed VBA-Excel graphical CAT module, is much less burdensome to patients and time saving than traditional NAT appraisals.
IRT-based CAT algorithms have been developed in educational testing for several decades and much is known about their functioning in comparison to NAT [6, 22, 23]. CAT utilizes the invariance property under the Rasch or IRT models to create an algorithm by which each person receives a test that is tailored to the person's level so that the questions are neither too difficult nor too easy and usually contain fewer items than conventional non-adaptive measures [19].
Conclusion
Mobile nursing services through the programmed VBA-Excel CAT module can reduce the burden to patients and proxies and save time, more so than the traditional non-adaptive assessing appraisals. With the networking and rapidly growing mobile point of care development in hospitals, IRT-based assessing appraisal is more in line with real-world test, especially used in healthcare. We expect that over the years this mobile framework of graphical CAT assessing patient ADL as piloted in this study will draw more research attention.
List of abbreviations
CAT:

computerized adaptive testing
IRT:

all answered items
CTT:

classic test theory
AAL:

all answered items
VBA:

visual basic for application
ADL:

activities of daily living
COW:

computer on wheels
MCA:

mobile clinical assistant
MNSQ:

mean square errors
ZSTD:

Z-standardized
SEM:

standard error measurement.
Declarations
Acknowledgements
We thank Chi-Mei Medical Center(Taiwan) for offering IT environment and WW for his statistical advises and for his help with the interpretation of data.
Authors' Affiliations
(1)
Department of Rehabilitation, Chi-Mei Medical Center, Taiwan, ROC
(2)
Department of Hospital and Health Care Administration, Chia-Nan University of Pharmacy and Science, Tainan, Taiwan, ROC
(3)
Department of Educational Psychology, Counseling and Learning Needs, Hong Kong Institute of Education, Hong Kong
(4)
Director SILAIS, Carazo, Nicaragua, Central America
Copyright
© Chien et al; licensee BioMed Central Ltd. 2009
This article is published under license to BioMed Central Ltd. This is an Open Access article distributed under the terms of the Creative Commons Attribution License (http://creativecommons.org/licenses/by/2.0), which permits unrestricted use, distribution, and reproduction in any medium, provided the original work is properly cited.