Measuring health-related quality of life in tuberculosis: a systematic review
Health and Quality of Life Outcomes
2009
7:14
Received: 27 September 2008
Accepted: 18 February 2009
Published: 18 February 2009
Abstract
Introduction
Tuberculosis remains a major public health problem worldwide. In recent years, increasing efforts have been dedicated to assessing the health-related quality of life experienced by people infected with tuberculosis. The objectives of this study were to better understand the impact of tuberculosis and its treatment on people's quality of life, and to review quality of life instruments used in current tuberculosis research.
Methods
A systematic literature search from 1981 to 2008 was performed through a number of electronic databases as well as a manual search. Eligible studies assessed multi-dimensional quality of life in people with tuberculosis disease or infection using standardized instruments. Results of the included studies were summarized qualitatively.
Results
Twelve original studies met our criteria for inclusion. A wide range of quality of life instruments were involved, and the Short-Form 36 was most commonly used. A validated tuberculosis-specific quality of life instrument was not located. The findings showed that tuberculosis had a substantial and encompassing impact on patients' quality of life. Overall, the anti-tuberculosis treatment had a positive effect of improving patients' quality of life; their physical health tended to recover more quickly than the mental well-being. However, after the patients successfully completed treatment and were microbiologically 'cured', their quality of life remained significantly worse than the general population.
Conclusion
Tuberculosis has substantially adverse impacts on patients' quality of life, which persist after microbiological 'cure'. A variety of instruments were used to assess quality of life in tuberculosis and there has been no well-established tuberculosis-specific instrument, making it difficult to fully understand the impact of the illness.
Keywords
Chronic Obstructive Pulmonary Disease Patient
Physical Component Summary
Mental Component Summary
Standard Gamble
HRQL Instrument
Introduction
The assessment of patient reported outcomes (PROs) has become more accepted and valued in the disease management and outcome evaluation. Health-related quality of life (HRQL) is a complex type of PRO that evaluates health status. HRQL broadly describes how well individuals function in daily lives and their own perception of well-being in physical, psychological, and social aspects [1, 2]. Although traditional clinical and biological indicators are often intrinsically related to patients' quality of life, they fail to represent one's self-perceived function and well-being in everyday life settings. It is known that patients with chronic diseases place a high value on their mental and social well-being as well as pure physical health [3]. As a result, HRQL has become an area of increasing interest and has been evaluated in many diseases, including tuberculosis (TB). To measure HRQL, two kinds of instruments are often used: generic and disease-specific [1, 2, 4]. Generic instruments are developed to cover the common and important aspects of health and can be used to assess and compare HRQL across different health conditions and sub-populations [1, 4]. In contrast, disease- or condition-specific instruments are designed to reflect unique problems most relevant to a given disease and/or its treatment [1, 4]. Theoretically, disease-specific instruments are more precise and more sensitive to small but potentially important differences or changes on HRQL, compared to generic instruments [1, 4]. One special category of generic HRQL instruments assesses "preferences" for certain health states [2]. These instruments summarize quality of life into a single utility score, reflecting the 'value' people place on a health state, anchored at 0 (death) and 1 (full health). [2]. Health utility measurements are often used in health economic studies.
Although effective therapy has long been available, TB remains a major public health threat globally, with one third of the world's population infected [5, 6]. Many aspects of TB along with its treatment could potentially compromise patients' HRQL. For example, the standard anti-TB therapy consists of four medications and takes at least 6 to 9 months to complete, with serious risks of adverse reactions [6–8]. In some communities, TB patients are perceived as a source of infection and the resultant social rejection and isolation leads to a long-term impairment on patients' psychosocial well-being [9–14]. Many TB patients also report to experience negative emotions, such as anxiety and fear [13, 14]. However, the current goal of TB management is to achieve microbiological 'cure' and there has been little effort taken to consider patients' HRQL. In 2004, Chang et. al. published a review summarizing the English medical literature on the quality of life in TB patients [15]. At that time, the authors were unable to locate studies measuring HRQL using standardized instruments. Over the past few years, more effort has been dedicated to this research field. Therefore, the present review was performed to identify published original studies utilizing structured HRQL instruments.
Objectives
The objectives of this review were: (1) to identify HRQL instruments used in TB research; (2) to better understand the impact of TB disease or infection and the associated treatment on patients' HRQL; and (3) to examine demographic, socio-economic, and clinical factors associated with HRQL outcomes in TB patients.
Methods
Search strategies for identification of potential studies
A systematic literature search was performed using the following electronic databases: Medline (1950-present), EMBASE (1980-present), Cochrane Register of Controlled Trials (CENTRAL), CINAHL, PsycINFO, and HaPI (1985-present). Key word searching and/or subject searching were performed, if applicable. The following keywords were used:
tuberculosis (TB), Quality of Life (QoL), Quality Adjusted Life Years (QALY), health utility, health status, life quality
, and
well-being
. The limit feature was used to select human studies published between 1981 and 2008 written in English or Chinese (traditional or simplified). The last time electronic database search was conducted during July 22, 2008. The reference sections of the following key journals were manually searched for relevant articles:
International Journal of Tuberculosis and Lung Disease, Chest, Quality of Life Research
, and
Health and Quality of Life Outcomes
. Reference lists of included studies, review articles, letters, and comments were checked afterwards. We did not contact the authors of identified studies or relevant experts to locate unpublished studies. Each stage of the literature searching process is illustrated in Figure
1
.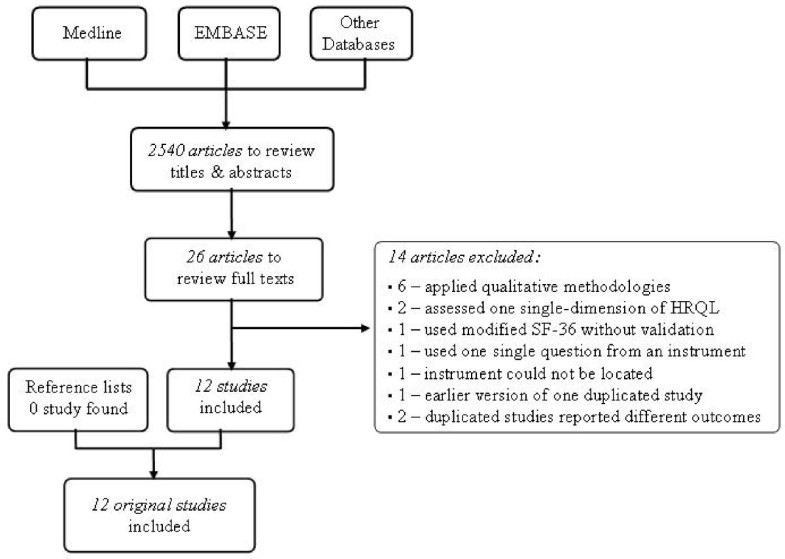 Inclusion and exclusion criteria
All clinical trials and observational studies where multi-dimensional HRQL was evaluated, either as a primary or secondary outcome, using structured HRQL instruments were considered in this review. Participants were those diagnosed with active TB disease or latent TB infection (LTBI), regardless of the site and stage of the disease and the treatment status. There were no limitations on age, gender, race, the origin of birth, and other socio-economic status.
For the purpose of this review, HRQL was defined as patients' self-evaluations of the impact of either active TB disease or LTBI and the associated treatments on their physical, mental, and social well-being and functioning. The following requirements for HRQL measurement were set a priori for studies to be included in this review: (1) one multi-dimensional HRQL instrument or a combination of single-dimensional instruments had to be used to capture the broad framework of HRQL; (2) the HRQL instruments could be either generic or disease (or condition) -specific; (3) the origin of the applied instruments had to be identifiable and traceable; (4) the HRQL instruments had to have psychometric properties such as reliability and validity reported from previous studies or were assessed in the specific study being reviewed; (5) HRQL outcomes had to be self-reported by the specific participant, but HRQL measurement that were completed with help from proper proxies, such as family members and caregivers, were also accepted.
Studies were excluded if (1) HRQL was evaluated using qualitative methodologies, such as focus groups; or (2) only one single dimension of HRQL (e.g., depression) was assessed; or (3) HRQL was assessed using instruments designed for the specific study without psychometric properties evaluated and reported; or (4) a modified version of a previously validated instruments (e.g., SF-36) was used as the psychometric properties of the original instrument could be changed by the modification.
Data extraction
If the study was included in this review, the following information was collected: study design, inclusion and exclusion criteria of subjects, included subjects' socio-demographic characteristics and clinical features, HRQL instrument(s) used, the origin and structure of HRQL instrument(s), administration of HRQL instrument(s), and HRQL outcomes and validation results.
Results
The literature search identified 2540 articles which were narrowed to 26 [9–14, 16–35] (Figure 1). After reviewing the full texts, 14 studies were further excluded for various reasons: 6 studies used qualitative methodologies [9–14]; 2 studies measured only one single dimension of HRQL [16, 17]; 1 study [18] used the Short-Form 36 (SF-36) but the response options of SF-36 were modified to 3 levels (i.e., the same as before, better, and worse) without providing validation data; 1 study [19] used one single question from a structured instrument; 1 study was a duplicate and the earlier version was excluded [20, 21]; 1 study [22] used a generic instrument, the General Quality of Life Interview (GQOLI-74), however, no relevant references were provided to track the origin and the psychometric properties of this instrument; 2 articles [23, 24] were published from the same study, and therefore only included as one study for the review; another 2 articles, Marra et. al. [25] and Guo et. al. [26], reported longitudinal and cross-sectional results from one same study respectively, and thus only one study was counted for the review. Therefore, a total of 12 original studies were included in this review [21, 23, 25, 27–35] and an overview is presented in Additional file 1.
Of the 12 included studies, one was published in 1998 [27] and the remaining 11 were published after 2001 [21, 23, 25, 28–35]. Nine studies were published in English and 3 in Chinese [27, 29, 33]. The included studies were carried out within different countries: 3 in China [27–29]; 1 in both China and southern Thailand [33]; 2 in India [21, 35]; 2 in Turkey [30, 31]; 2 in Canada [23–26]; and 2 in the USA [32, 34]. Seven of the included studies were cross-sectional [27, 29–31, 33–35] and 4 were prospective cohort studies [21, 23, 25, 28]. The remaining one study was a randomized controlled trial (RCT) [32], but only baseline HRQL assessment data was reported in the published article. Among the 12 studies, three studies included a comparison group either from the general population [28] or from a "healthy" non-TB sample [27, 29]; one study used the normative data from the Canadian population as the reference group [23, 24]; two studies included people with LTBI as controls [25, 34]; one study compared TB patients with a group of chronic obstructive pulmonary disease (COPD) patients [31]; and the remaining 5 studies did not include proper comparison groups. Sample size (i.e., number of subjects included in the statistical analysis) varied among the 12 studies, from 46 to 436. Only one study [23] reported how the sample size was estimated statistically. A wide range of TB patients were included in this review: pulmonary TB and extra-pulmonary TB, active TB disease and LTBI, and current TB and previously treated TB.
To measure multiple-dimensional HRQL, a variety of instruments were involved in the included studies (Additional file 2). As a result, it was not possible to statistically summarize the results and thus a qualitative synthesis approach was taken for this review.
Discussion
HRQL has been appreciated as an important health outcome measure in clinical research. We identified 12 original studies where multi-dimensional HRQL was assessed among people with TB disease or infection using structured instruments around the world. We found that TB and its treatment have a significant impact on patients' quality of life from various aspects and this impact tends to persist for a long time even after the successful completion of treatment and the microbiological 'cure' of the disease.
The results suggest that TB disease has a negative and encompassing impact on active TB patients' self-perceived health status in physical, psychological, and social aspects. Overall, the anti-TB treatment showed positive effect on improving patients' HRQL. It appeared that physical health seemed to be more affected by the disease but improved more quickly after the treatment, while the impairment on mental well-being tended to persist for a longer term [21, 28]. However, even after the active TB patients successfully completed the treatment and were considered microbiologically 'cured', their HRQL remained poor as compared to the general population [23–25, 28]. The ongoing HRQL impairment may be partly due to the persistent physical symptoms and residual physiological damages from the disease and/or the treatment. Furthermore, a few qualitative studies [9–14, 16–18] have shown that the social stigma attached to the diagnosis of TB in some cultures is significant. People with TB may feel isolated from their family and friends or experience the fear and anxiety of being known by others about their diagnosis. All these consequential impairments also need to be 'cured' and may take a long recovery time.
Most studies have focused on assessing HRQL in active TB patients. Although people with LTBI do not present with clinical disease or symptoms, they are likely to be subjected to the same social and psychological impacts as active TB patients. The knowledge of a deadly and stigmatized disease lying dormant in his/her body may also induce anxiety and fear. As Marra et. al. [25] observed that, after receiving 6 months of preventive therapy with isoniazid, the mental well-being of people with LTBI decreased significantly.
HRQL assessment in TB research is still a new area, and a valid and reliable TB-specific instrument is much needed. Currently, a wide range of HRQL instruments were utilized in the literature. The SF-36 was the most frequently used instrument and it appeared to be a valid and reliable tool to be used in TB. Although the SF-36 has been used extensively to assess both population health and specific health conditions for various medical conditions, as a generic health assessment instrument, it offers little information to help understand the unique experiences among TB patients, such as social stigma and anti-TB treatment related ADRs.
Our review identified one TB-specific HRQL instrument, DR-12, which was developed in India [20, 21]. Unfortunately, its validation study was not conducted in a systematic fashion and the current evidence provided was not convincing. Further applications and appropriate methodologies are needed to show DR-12 is a psychometrically sound HRQL instrument feasible and valid for TB patients. In addition, the DR-12 is actually designed specifically for pulmonary TB patients, judging from its item content. TB can affect almost any part of the human body, and in Canada, about 40% of active TB diseases would present as extra-pulmonary TB [47]. Different types of TB disease would have very different clinical presentations and affect people's function differently. This may be a challenge when developing a TB-specific HRQL instrument.
It should be also noted that most TB patients have very different cultural and socio-demographic backgrounds compared with the population in which many of these instruments were originally developed. Also, in the studies done in Canada and the USA [24–26, 32, 34], most TB patients were foreign-born and the instruments were normally self-administered in the English language which would not have been the respondents' first language. Thus, the results of these studies may not be valid if careful translation and cultural adaptation of the instrument was not done to accommodate the multi-cultural population.
Particular attention should be given to some methodological issues on assessing HRQL among people with active TB disease or LTBI. To comprehensively examine the impact of TB and its treatment on patients' HRQL, it is very important to include a proper comparison group from a similar demographic and socio-economic background. When conducting the study, researchers are recommended to seek statistical consultation regarding proper sample size estimating, missing data handling, and adjusting for potential confounders, such as socio-demographic status and presence of co-morbidities. Another concern is the lack of interpretation of HRQL outcomes in terms of clinical meaningfulness. Statistical significance is a useful way to interpret the result, but it fails to relate the HRQL outcome with clinical relevance. As such, more work needs to be done to relate changes in HRQL assessment in TB to concepts such as the minimal clinical difference [48, 49].
Conclusion
Our review of the literature shows that TB diminishes patients' HRQL, as measured by various instruments. However, due to the heterogeneity of HRQL measurements, it was difficult to assimilate results across studies. A few studies used the SF-36 which appeared to be a valid instrument in the measurement of HRQL in TB. Other instruments require further psychometric testing to determine their suitability in measurement in this context. Our review suggests that HRQL assessment in people with TB is a growing research area and a psychometrically sound TB-specific HRQL instrument is lacking. A critical step in the future would be to design an applicable, reliable, and valid TB-specific HRQL instrument. Particular attention should be given to address the methodological issues when conducting a HRQL assessment study in TB patients.
Authors' Affiliations
(1)
Collaboration for Outcomes Research and Evaluation (CORE), Faculty of Pharmaceutical Sciences, University of British Columbia, Vancouver, Canada
(2)
Faculty of Pharmaceutical Sciences, University of British Columbia; Director, Vaccine and Pharmacy Services, British Columbia Centre for Disease Control (BCCDC), Vancouver, Canada
(3)
Centre for Health Evaluation and Outcome Sciences (CHEOS), Providence Health Care Research Institute, Vancouver, Canada
Copyright
© Guo et al; licensee BioMed Central Ltd. 2009
This article is published under license to BioMed Central Ltd. This is an Open Access article distributed under the terms of the Creative Commons Attribution License (http://creativecommons.org/licenses/by/2.0), which permits unrestricted use, distribution, and reproduction in any medium, provided the original work is properly cited.