Quality of life of people with mental health problems: a synthesis of qualitative research
Health and Quality of Life Outcomes
2012
10:138
Received: 29 March 2012
Accepted: 7 November 2012
Published: 22 November 2012
Abstract
Purpose
To identify the domains of quality of life important to people with mental health problems.
Method
A systematic review of qualitative research undertaken with people with mental health problems using a framework synthesis.
Results
We identified six domains: well-being and ill-being; control, autonomy and choice; self-perception; belonging; activity; and hope and hopelessness. Firstly, symptoms or 'ill-being' were an intrinsic aspect of quality of life for people with severe mental health problems. Additionally, a good quality of life was characterised by the feeling of being in control (particularly of distressing symptoms), autonomy and choice; a positive self-image; a sense of belonging; engagement in meaningful and enjoyable activities; and feelings of hope and optimism. Conversely, a poor quality life, often experienced by those with severe mental health difficulties, was characterized by feelings of distress; lack of control, choice and autonomy; low self-esteem and confidence; a sense of not being part of society; diminished activity; and a sense of hopelessness and demoralization.
Conclusions
Generic measures fail to address the complexity of quality of life measurement and the broad range of domains important to people with mental health problems.
Keywords
Quality of life
Mental health
Well-being
Ill-being
Functioning
Outcomes
Introduction
There has been a shift in mental health services from an emphasis on treatment focused on reducing symptoms, based on a narrow notion of health and disease, to a more holistic approach which takes into consideration both well-being and functioning [1]. Mental health services in the United Kingdom, for example, are now being planned and commissioned based on psychological formulations addressing a person's wider well-being, need, and functional outcome alongside, or sometimes in place of, diagnostic categories and clinical ideas of cure and outcome [2]. At the same time, there has been an increasing use of generic measures of health related quality of life like EQ-5D and SF-36 in assessing the benefits of health care interventions in order to inform decisions about provision and reimbursement (eg National Institute for Health and Clinical Excellence) [3] and for assessing patient reported outcomes [4]. It is claimed these generic measures are appropriate for both physical and mental health conditions; however some argue they are not suitable for people with severe mental health problems, particularly psychosis [5, 6].
One of the challenges of using the concept 'quality of life' as a basis for outcome measurement is that it can be defined, and therefore measured, in innumerable ways. The assumptions underlying such measurement can be influenced by both academic discipline and ideological perspective [7]. As a result there are many different overlapping models of quality of life including objective and subjective indicators, needs satisfaction, psychological and subjective well-being models, health, functioning and social models [8]. One on-going tension is whether a measure should have a subjective or objective orientation. A subjective orientation may emphasise the importance of 'being', which in turn can be viewed either in hedonistic terms as the experience of current happiness or pleasure, or as a more eudemonic approach which considers the more pervading attributes of self-fulfilment, realisation or actualization [9, 10]. A subjective evaluative approach may also be taken which asks people to rate how satisfied they are with their lives and aspects of it [11]. On the other hand, a more objective approach used in social policy places its emphasis on meeting needs, whether they are healthy, have sufficient income for food and satisfactory living conditions, are well educated and have access to resources [9, 12]. A review of eleven instruments for measuring quality of life for people with severe mental illness identified that the most commonly assessed domains are employment or work, health, leisure, living situation, and relationships [13]. These measures combine an objective with a subjective approach that establishes levels of satisfaction with these different objective life domains. However, concerns have been raised regarding the limited coverage of domains assessed in such instruments [14, 15]. Furthermore, it is criticised that measures have primarily been generated from the perspective of mental health professionals or other experts using a top-down approach rather than by an assessment of what individuals with mental health problems perceive to be important to their quality of life [15]. These are also important potential criticisms of the generic measures of health related quality of life like the EQ-5D and SF-36 [5].
The aim of this literature review was to examine the quality of life domains that are important from the perspective of an individual with mental health problems. This research was part of a larger project considering the applicability and suitability of generic health related quality of life measures for people with mental health problems (MRC project number G0801394).
Methods
We sought to identify all primary qualitative research studies (involving methods such as interviews and focus groups) which explicitly asked adults with mental health problems what they considered to be important to their quality of life or how their quality of life had been affected by their mental health problems.
A range of approaches is available for synthesizing qualitative research [16]. Paterson et al. [17] recommend that the choice is made on the basis of the nature of the research question and design, the prevailing paradigm, and the researcher's personal preference. In this review, framework synthesis was used. This is based on the 'framework' approach for the analysis of primary data [18] and is a highly structured approach to organizing and analyzing data which permits the expansion and refinement of an a priori framework to incorporate new themes emerging from the data [16]. It is appropriate here because the aim of our wider study was to identify whether existing outcomes measures are useful for measuring quality of life for people with mental health problems.
Search methods
Systematic reviews of clinical effectiveness evidence require extensive searching based on a clearly focussed search question. Defining a focussed question was neither possible nor appropriate here because a pre-specified search question would have imposed on the search process an a priori conceptual understanding of the topic under review. Given the abstract nature of the relevant concepts and associated search vocabulary, and given the exploratory and inductive nature of the review process, we needed to use an iterative approach to searching. This incorporated a number of different search techniques including keyword searching, taking advice from experts, hand searching and citation searching of relevant references and world-wide-web searching. The iterative approach provided a means of accommodating within the search process new themes emerging from the review as the scope of our conceptual understanding developed. The identification of relevant search terms was an evolving process. Four search iterations were undertaken. The choice of search terms used in earlier iterations was based on our initial understanding of the review topic and on papers identified by experts at the outset of the review. The choice of search terms used in later iterations was informed by the review of evidence identified by earlier search iterations. Key terms included mental health; mental illness; mental disorder; quality of life; well-being; well being; life satisfaction; life functioning; life change; recovery; subjective experience; lived experience; lifestyle; coping; adaptation; qualitative; qualitative research. For a full list of search terms and details of the evolving search iterations see Additional file 1: Appendix 1 and Additional file 2: Appendix 2. Database searches were undertaken between October 2009 and April 2010 and included Medline, ASSIA, CINAHL, PsycINFO, and Web of Science. The searches were not restricted by date, language or country.
Inclusion and exclusion criteria
Quality of life
The search started from a premise of not imposing a pre-conceived definition or model of 'quality of life'. Whilst some studies retrieved had an explicit aim to explore quality of life we found other studies with very similar findings to those which explicitly examined the concept of quality of life even though quality of life was not the subject of investigation. These studies examined the concepts of: recovery, lived experience, subjective experience, psychosocial issues, health needs, and strategies for living. Complexities thus arose in deciding whether the studies were about the same substantive concept of quality of life or were tapping into a separate but overlapping concept. As Sandelowski [19] states 'often research purposes and questions are so broadly stated it is only by looking at the kinds of findings produced that topical similarity can be determined'. We were aware of the danger that the inclusion of these studies could introduce themes that were not central to the concept of quality of life but were rather allied to a separate but related concept. A pragmatic decision was made to examine the research aims and interview questions of those studies which did not directly investigate the concept of quality of life and only include those which asked broad open-ended questions about how participants' mental health affected their lives, what was important to or would improve their lives, or equated their findings with quality of life in some way. We excluded studies that deliberately started with a premise of the importance of any particular domain of quality of life or were structured solely around a pre-conceived list of domains.
Qualitative research
We included primary qualitative research studies that used qualitative interviews or focus groups data to identify the views of individuals with mental health problems. We excluded studies that used content analysis which presented results as a frequency list with no supporting participant quotes. Some studies sought the views of people with mental health problems and of carers or professionals; in such cases, we only included those studies in which the views of people with mental health problems could be separately identified.
Mental health
We included research on all mood disorders (eg depression, bi-polar, mania), neurosis and stress related disorders (eg anxiety, phobias, post traumatic stress disorder) personality disorders and schizophrenia, schizotypal and delusional disorders. Included studies had to state that participants had mental health problems as identified either through diagnosis, or through attendance at an establishment for people with mental health problems. Studies where mental health problems were secondary to a physical health problem were excluded.
Quality
The use of quality assessment in reviews of qualitative research is contested. Quality assessment is usually used in framework synthesis but this may be associated with its use alongside systematic reviews of effectiveness [16]. In this review, articles were not quality assessed and systematically excluded on the basis of quality. However, it was of paramount importance that any included study elicited the perspective of individuals with mental health problems and where this appeared not to be the case they were excluded. Consequently, studies were excluded when it was strongly suspected that the views of the researcher, or the method of analysis, had overly influenced the findings. These articles were examined and discussed at length by the research team before being excluded.
Language
Although the searches were not restricted to English language articles, non-English language articles were excluded because of the potential for mis-interpretation. Five potentially relevant articles were excluded on the grounds of language (Figure 
1
).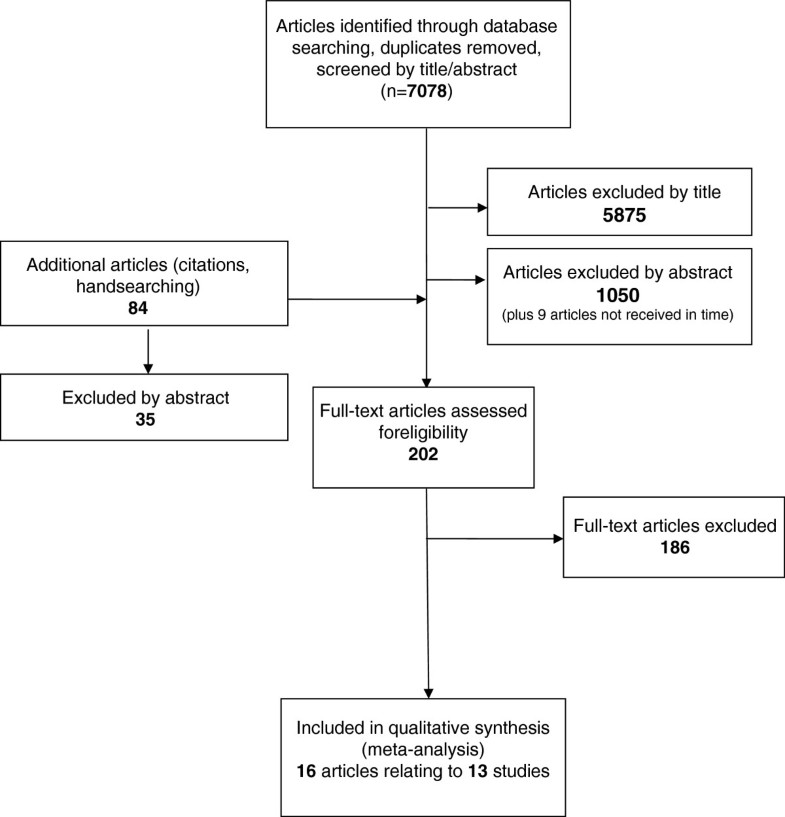 Data extraction and analysis
The following details of the studies were extracted: mental health problem studied; author affiliation; time and location of study; number and demographic details of participants; research aims and questions; recruitment and sampling methods; and method of data collection and analysis. Themes within the findings and discussion sections were extracted for the thematic analysis.
Framework analysis [18] was used to allow the identification of common and variable patterns of themes within and across different studies. The first stage of framework analysis- familiarisation - was undertaken by reading all included papers. The second stage involved examining the findings from these papers to identify initial themes for a thematic framework. These ten initial descriptive themes were either identified as main themes from more than one study, or arose consistently across studies. These were: activity; relationships; the self; the future/aspirations; symptoms/well-being/emotions; spirituality; control/coping; insight/education; health care services/interventions; and resources/basic needs. The third stage, data organisation, involved charting data from the findings and discussion sections that corresponded to each theme. Text was transferred verbatim to ensure contextual accuracy. It was common for text to be identified as supporting more than one theme, for example a quote describing how work was good for their self-esteem would be placed in the thematic categories 'activity' and 'self'. At the next stage each initial theme was examined and further sub-themes identified and documented within the framework chart. To assist with the final stage of framework - mapping - the sub-themes were listed and examined for their conceptual similarities and differences. To aid this process, we searched the wider literature to find papers which would help us to understand the data, to make connections between sub-themes, and to assist in the development of our final themes. For example, 'belonging' was an emerging theme, and we identified Hagerty et al's [20] research which explored and defined this concept. We then returned to our framework chart to re-examine our data in light of the wider literature. Other influential literature was on the theory of 'doing, being, becoming' [21], ill-being vs well-being and intrinsic and extrinsic quality of life [22, 23] and demoralization [24]. We have reported this literature when describing the theme in the findings because it was influential in shaping our understanding of the theme. The themes and domains from the included papers were presented and organised in contrasting styles by the authors of those papers. Depending upon the theoretical background of the researcher, and the method of analysis used, this resulted in themes which were either objective and descriptive (e.g. relationships, occupation) or abstract or metaphoric in their presentation (e.g. 'Upset and calm changes patterns of being with and apart from others'). For the latter, whether a theme was major or minor was the subjective view of the authors. We have reported a theme as being a major theme within the studies if it was: a) a titled theme within the study findings b) was reported as being represented throughout the data or c) formed a substantive part of those studies that used abstract or metaphoric themes or of those that were not organised thematically. For transparency the original themes or section titles from the original papers have been presented after the quotes provided to illustrate our findings.
Validation and trustworthiness
Validation procedures were incorporated into the review at all stages. Two researchers (JC and MLJ) independently identified articles from the first search iteration, and compared results to clarify the inclusion and exclusion criteria. Potential full articles were identified from further searches by the primary researcher and independently checked by the second researcher. The included articles were examined independently by both researchers to identify the main themes for the initial framework. Disagreements at all stages were resolved by discussion. Additionally, a multidisciplinary team of researchers met regularly in addition to meetings with clinicians and a user representative to discuss and challenge the inclusion and exclusion criteria, thematic framework, and conceptual interpretations and conclusions.
Discussion
We identified six major themes associated with quality of life for those with mental health problems: well-being and ill-being; control, autonomy and choice; self-perception; belonging; activity; and hope and hopelessness.
Measuring quality of life for people with mental health problems is of interest currently because of concerns about the emphasis of mental health services on reducing symptoms. Yet our review identified the importance of distress and symptom control from the perspective of people with mental health problems. Amongst academic circles quality of life has confusingly come to be known as anything which is not clinical [14]. However, this review of the qualitative literature indicates that, when those with severe mental health problems are interviewed, the distress related to symptoms is integral to their quality of life, and in some instances seeing beyond this distress is difficult.
One of the strongest themes revealed by the review was a sense of belonging achieved principally by good quality relationships and lack of stigma. It has been stated that people are fundamentally motivated by a need to belong [43], and that belonging is the missing conceptual link in understanding mental health and mental illness [44]. Our review also indicates that negative social relationships are detrimental to quality of life. This is supported by research that shows that, whilst a large social network and satisfaction with social relations are associated with a better quality of life [45], negative social interactions and stigma are related to a worse quality of life [46]. Social exchange theory emphasizes that social interaction entails both rewards and costs, and that negative social outcomes can have a greater impact on well-being than positive outcomes [47]. There is also evidence that loneliness is caused more by a lack of intimate connections than by a lack of social contact [48]. Hence, the important factor is the sense of belonging, rather than social contact. So, whilst there is a strong argument that those people who experience supportive, caring, loving relationships and have a sense of belonging have a better quality of life, it is less clear which is the more detrimental - to experience and risk the negative impact of uncaring and disrespectful relationships, rejection and stigma, or to protect oneself through self-isolation.
As good and poor relationships can have a positive or negative impact, so activity can both help and hinder quality of life. For some, the severity of symptoms can mean that basic self-care and day to day functioning are difficult. Activity beyond perceived capabilities can also result in feelings of anxiety, which in turn can lead to deterioration in other mental health symptoms such as hearing voices and paranoia. This results in avoidance of any potentially stressful situations. This finding is supported by the findings of research into the occupational activity of those with severe mental illness which indicated that, though employment was valued, people made choices constrained by fear of relapse, and entered, avoided, and shaped their social and occupational activity to remain well [49] It was found that doing too much could exacerbate symptoms, yet doing too little could also cause illness, and therefore people with severe mental illness sought out daily occupations with structure, flexibility, and easily met demands over which they had control [49]. Therefore, to achieve well-being and quality of life, people need to find a balance and be enabled towards what they are best fitted [50].
Although avoidance of social and occupational activity may reduce anxiety and the occurrence of other related symptoms, at the same time it can compromise other aspects of quality of life. The consequent reduction in choice and opportunity has a detrimental effect on self-esteem and confidence. However, self-worth is gained through positive social feedback and successfully engaging in activity. Lack of self-esteem has also been shown to increase the risk of psychiatric disorders, the development of delusions, and the maintenance of psychotic symptoms [51]. The perception of self is therefore both a cause and a consequence of mental health, and can therefore be regarded as being pivotal to quality of life.
In relation to the finding of the importance of hope and hopelessness to quality of life, parallels can be seen between the results of this review and the concept of demoralization [24, 52] whereby a persistent inability to cope with internally or externally induced stresses result in feelings of helplessness, incompetence, and loss of mastery and control leading to diminished self-esteem, hopelessness and demoralization which in turn adds to the distress of symptoms and further reduces a person's capacity to cope. The demoralized person clings to a small number of habitual activities, avoids novelty and challenge, and fears making long term plans [24, 52]. This feeling of demoralization further impacts upon ill-being and, if untreated, leads to chronic distress and possible suicide [24, 53].
Strengths and limitations of review
The primary studies included those with severe mental health problems only, with a majority having schizophrenia or psychotic disorders. Where there was a mixed population, studies rarely indicated any differences between people with different diagnoses. The findings may therefore have biases towards those with psychotic rather than affective disorders. The evidence base could therefore be improved by undertaking research with a wider range of mental health conditions.
Findings from the primary studies could be negatively or positively oriented depending upon the approach: research that asked how the illness had affected quality of life led to negative concepts (e.g. fear/stigma/isolation) whereas research that asked what would improve participants' lives resulted in positive concepts (e.g. love, support, understanding). Some research papers addressed both, and identified factors that both helped and hindered quality of life. There was a greater emphasis on negative than positive concepts in the primary studies, and this has influenced the analysis and subsequent findings.
The range of themes included in the reviewed articles was extensive, in this review we have focused on those that are most closely associated with 'health related' quality of life.
Setting boundaries
There were difficulties setting boundaries around themes because of the strong inter-relationship of the different domains which make up quality of life. To avoid repetition, sub-themes have been placed in the main theme with which they were considered to be most strongly associated, but aspects of these themes could be placed in other themes. For example, 'feeling normal' has been included under the main theme of 'belonging' but could also be regarded as an element of 'ill-being/ well-being' and 'the self'. Likewise, symptom management through medication is also an aspect of 'well-being' but probably due to the emphasis on psychosis related disorders in the reviewed studies it was the control aspect of medication use that predominated.
Complexities also arose when setting boundaries around the concept of quality of life. It was evident that there was a considerable overlap in findings with studies examining 'recovery', 'lived/subjective experience', 'psychosocial issues', 'health needs', and 'strategies for living'. After much discussion and deliberation within the team, these studies were excluded from the review. Since completing our analysis a systematic review of the concept of 'personal recovery' has been undertaken [54] a concept previously defined as 'a way of living a satisfying, hopeful, and contributing life even with limitations caused by illness' [55]. Interestingly, they identified five recovery processes comprising 'connectedness', 'hope and optimism about the future', 'identity', 'meaning in life' and 'empowerment' which are very similar to our own final themes. They do not include 'well-being' and this may be due to the rejection of an emphasis on symptoms within the recovery movement. This suggests that the concepts of 'recovery' and 'quality of life' are very closely related. This is important to understand as the concept of 'recovery' is gaining prominence as a guiding principle for mental health services [56].
Implications for measuring quality of life
The findings of this review indicate six major themes associated with quality of life for those with mental health problems: well-being and ill-being; control, autonomy and choice; self-perception; belonging; activity; and hope and hopelessness. This provides important evidence for critically examining the content of measures currently being used in mental health and particularly the generic measures of health related quality of life like EQ-5D that are being used to inform resource allocation decisions and the monitoring of outcomes. Concerns with the generic measures have been that they are designed by experts with little or no input from people with mental health problems and their coverage is too limited. The EQ-5D, for example, has the following five dimensions of health: mobility, self-care, usual activities, pain and discomfort, and depression and anxiety. Respondents are asked to report their level of problems (no problems, some/moderate problems or severe/extreme problem) on each dimension to provide a position on the EQ-5D health state classification. A key concern raised about this measure is the focus on physical health rather than mental health problems [5, 6]. These can be seen as a combination of physical functioning (mobility, self-care), well-being (depression and anxiety), social functioning (that may be included in usual activities) and physical symptoms (pain and discomfort). There is only a modest degree of fit between these EQ-5D dimensions and the six themes within our review. Anxiety and depression may reflect, however crudely, ill-being (though not well-being). Usual activity is again rather crude, but arguably covers aspects of activity. However it makes no allowance for the finding that some activity can have a negative as well as a positive impact. This leaves the themes of control, autonomy and choice; self-perception; belonging; and hope/hopelessness which are not addressed within the EQ-5D.
The findings of this review can help to provide useful evidence for examining the content validity of different measures. This evidence can be used alongside quantitative psychometric evidence on the performance of measures in different groups. In the case of EQ-5D, for example, recent reviews have found supporting evidence for construct validity and responsiveness in people with depression and personality disorder, but reflected the concerns about their appropriateness for those with anxiety, bipolar disorder and schizophrenia [57–59].
Conclusions
A good quality of life is characterized by feelings of well-being, control and autonomy, a positive self-perception, a sense of belonging, participation in enjoyable and meaningful activity, and a positive view of the future. In contrast, a poor quality of life is associated with feelings of distress, lack of control over symptoms and life in general, a negative perception of self, stigmatization and rejection, diminished activity and difficulties with day to day functioning, and a negative outlook. These life domains interact in a complex and reciprocal way. Generic measures of quality of life may fail to address this complexity and the rich and broad range of domains important to people with mental health problems.
Declarations
Acknowledgements
Funding sources for this research were the Medical Research Council Ref No. G0801394. We would also like to thank Prof. Michael Barkham, Prof. Glenys Parry and Eleni Chambers for their helpful and wise comments on draft versions of the paper.
Authors' Affiliations
(1)
Health Services Research, School of Health and Related Research, University of Sheffield, Sheffield, UK
(2)
Health Economics, School of Health and Related Research, University of Sheffield, Sheffield, UK
(3)
Information Resources, School of Health and Related Research, University of Sheffield, Sheffield, UK
Copyright
© Connell et al.; licensee BioMed Central Ltd. 2012
This article is published under license to BioMed Central Ltd. This is an Open Access article distributed under the terms of the Creative Commons Attribution License (http://creativecommons.org/licenses/by/2.0), which permits unrestricted use, distribution, and reproduction in any medium, provided the original work is properly cited.